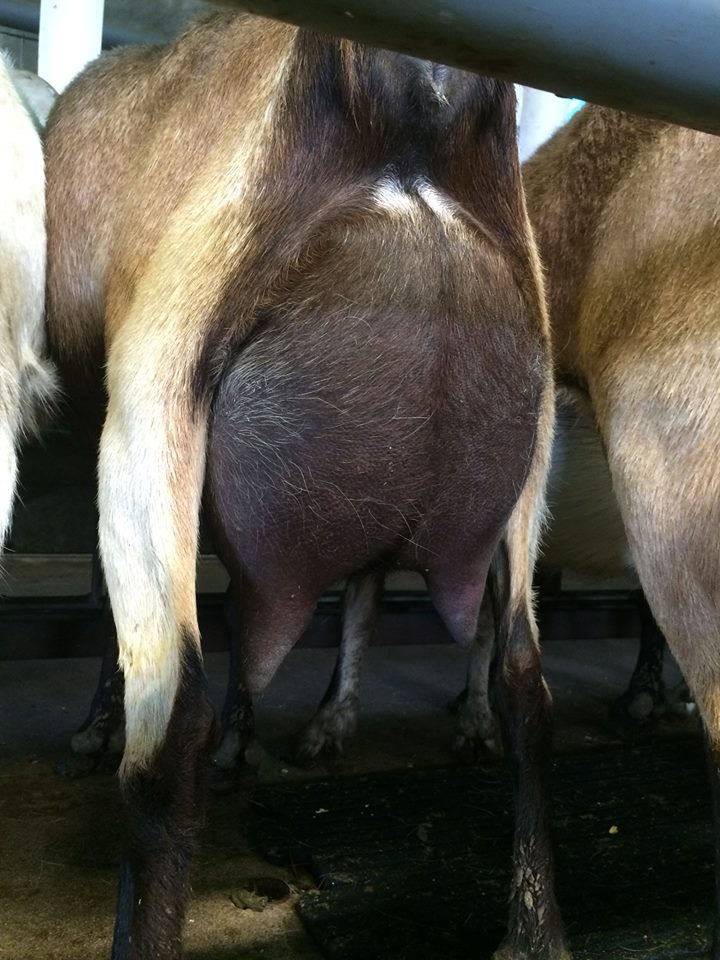 Daughter – 4Pete's Sake Chief's Arrowhead – owned by Ben Peterson. (used with permission – thanks!)
Running-Creek Wampum Chief *B was interesting to me first because he was polled, but then in additionally because his genetics are quite productive.
S: SG Sodium Oaks Wampum ++*B (07-04 VV+ 87) is a half brother to the famous Sasin, as they share their sire, Royal Risk. To see Wampum's full sister, please see GCH Sodium Oaks Royal Wren 4*M. 
SD: GCH Sodium Oaks Rufus Loon 3*M was an important doe in her day as well. She has longevity, with 8 lactations on test. Though they were not as high of numbers as I've seen, they are certainly respectable in the mid-2000lbs AND she still produced 20,240lbs of milk in her life through 8 lactations. To see pictures of her, Please CLICK HERE.  Also pictured is Peregrine, who you will note is not only Wampus's maternal half sister, but ALSO his paternal granddam. A little good old fashioned line breeding there.
D: Seeping Springs Misty 2*M had some very respectable lactations, the lowest at around 2700lbs as a 3 year old,and managing over 3,000lbs as a 4 year old.
DS:  GCH Troublesome Wallaby +*B 01-03 +VV 85, daughters average a respectable 2833lbs milk, 95lbs fat, 73lbs protein. Wallaby's sire is Evermore Outback ++*B whose daughters average 3064lbs, 112lbs fat, 82lbs protein. I also have some semen from Outback, see his page HERE
(updated 11/27/17)