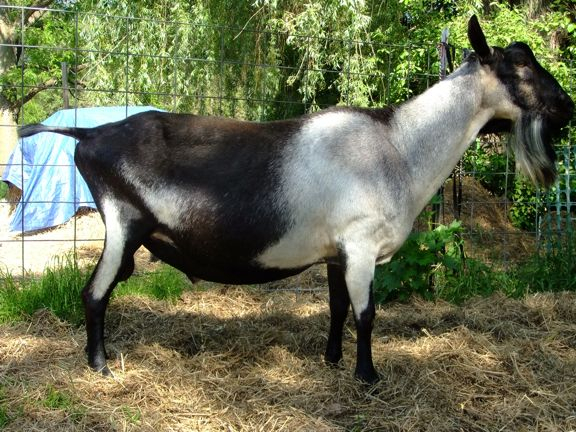 6/1/14 – 3yo
Barn name: Calix
Reg#: PA1545801
Breed: Purebred French Alpine
DOB: 3/2/11
Book: Purebred
Color: Cou Clair
DNA on file
Casein: F/F
Deceased January 2018 per current owner
Linear History
YS 2011 5mon: VEE overall V
2012 01-04 +VE 84
2013 02-06 +VV 84
2014 03-03 VEV 88
2016 05-03 VEE 89
Daughters (all are QMF does): 
Very pleased with my little buck. 2011 Appraiser commented on his dairiness while still retaining strength and masculinity. Super sweet, docile temperament and still willing to exuberantly woo the ladies. 🙂 My little buck kid has gotten big. As a yearling he's around 150lbs while in rut and losing condition due to high activity.
I have freshened one daughter of his – Caprice Acres Long Tall Sally. (Dam: Grace-Hill Kesslee 1*M – SEE BOTH ON THE REFERENCE PAGE!) As a FF she produced 10lbs/day and was a dream to milk. Unfortunately I was not on test that year and she did not settle for the 2014 breeding season so she was sent to auction as we don't have a place for her as an 'open' doe here. 10lbs/day as a FF was GREATLY improved over her dam.
Calix was collected in November 2015 and was sold December 1st 2015. He will be missed but with him in the tank I had no need for him live cover. After my friend used him for a season, he was again sold and ended up in Indiana with another herd.  The second owner (a good friend) hoped to purchase him back from the 3rd owner. However, we heard in January of 2018 that he had passed away.
Here is his only daughter I freshened here. She was unfortunately sold when she did not get pregnant the fall after FF lactation. At that time, I needed to keep the herd as small as possible so there was no room for a doe who was not going to freshen again. I do regret selling her. She is also on the Reference page, her name is Caprice Acres Long Tall Sally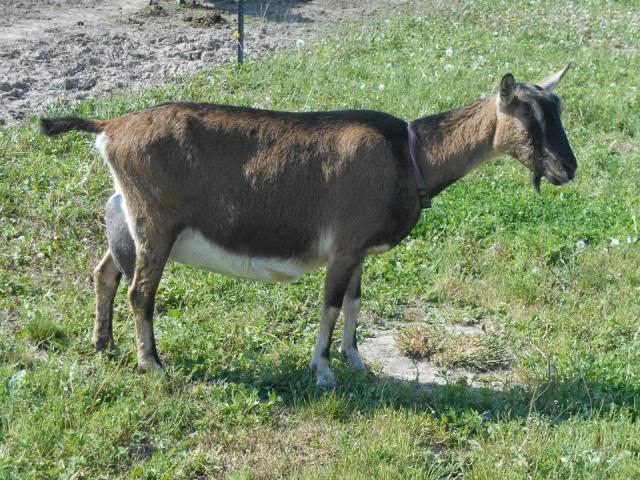 Pic from May 2013, 6 years old.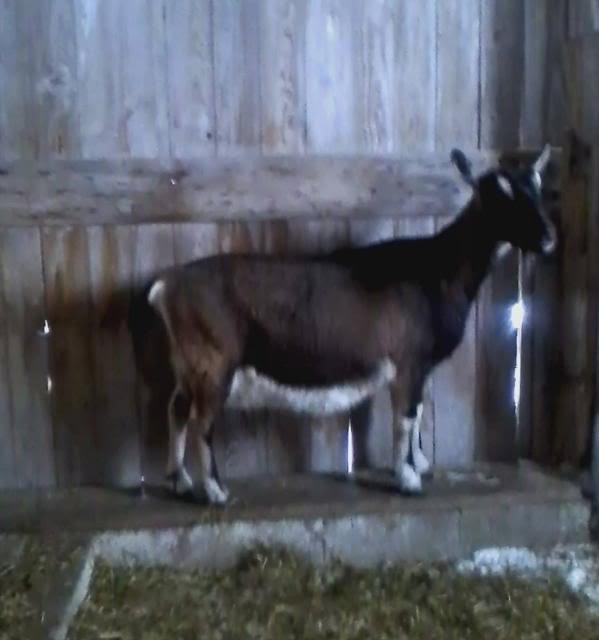 Pregnant, winter 2014, close to 7 years old.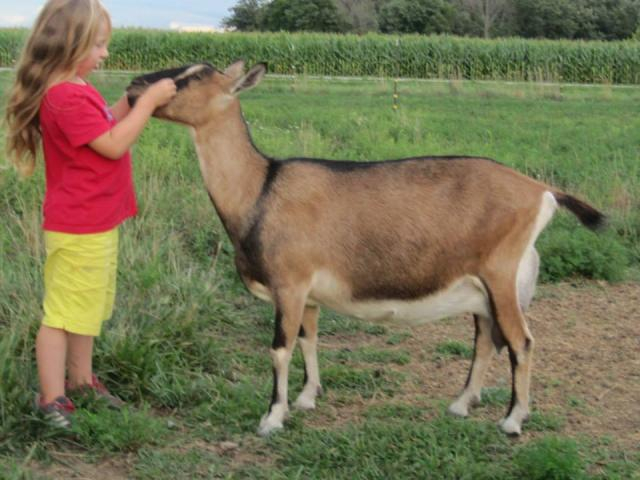 August 2014, 7 years old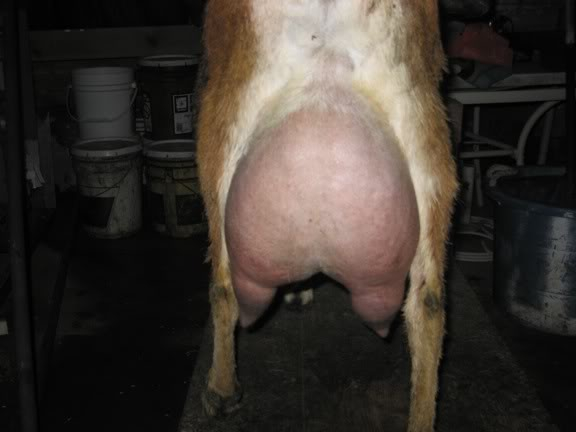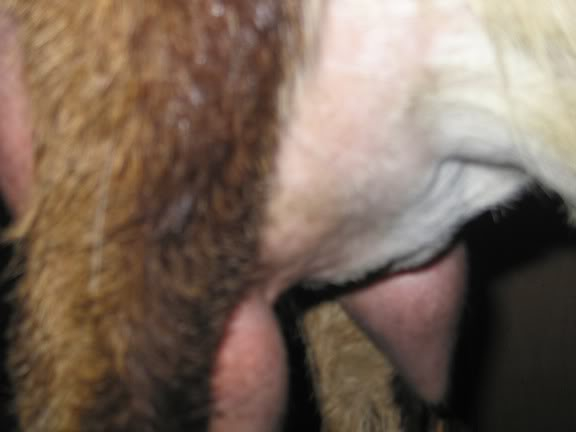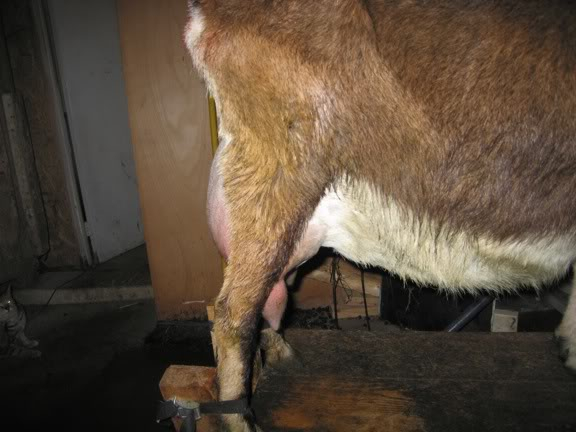 This is Calix's dam's mammary in 2012 as a 5 year old. She freshened 3/3/12 and these pics were taken 3/19/12, so she is 16 days fresh.
Linear Appraisal
2012 LA : 05-05 VEEV 88, E's in Head, Rear Legs, Back, and Rump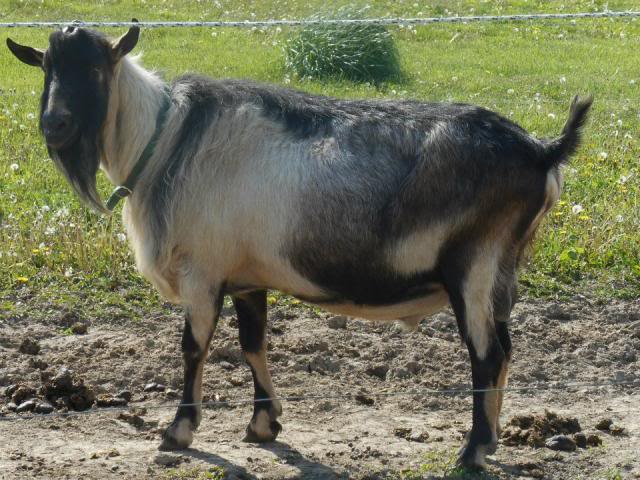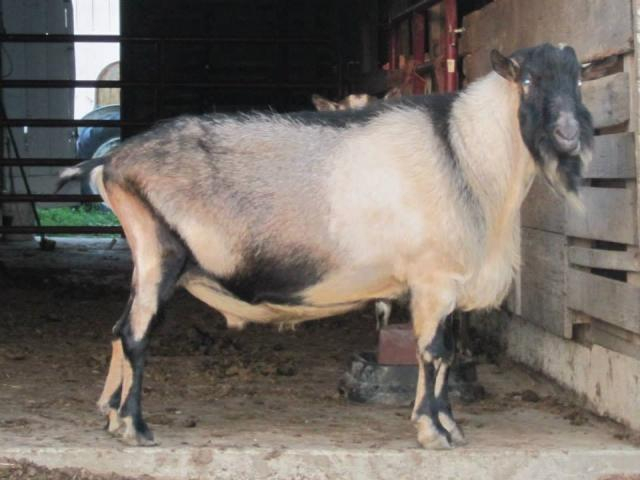 August 2014, 6yrs old
Linear Appraisal
2012 04-03 VEE 90; E's in Back and Rump
2015 07-05 VVE 89; E's in Shoulder assembly, back
A big THANK YOU to Becky Giesler, for the photos of Calix's parents!