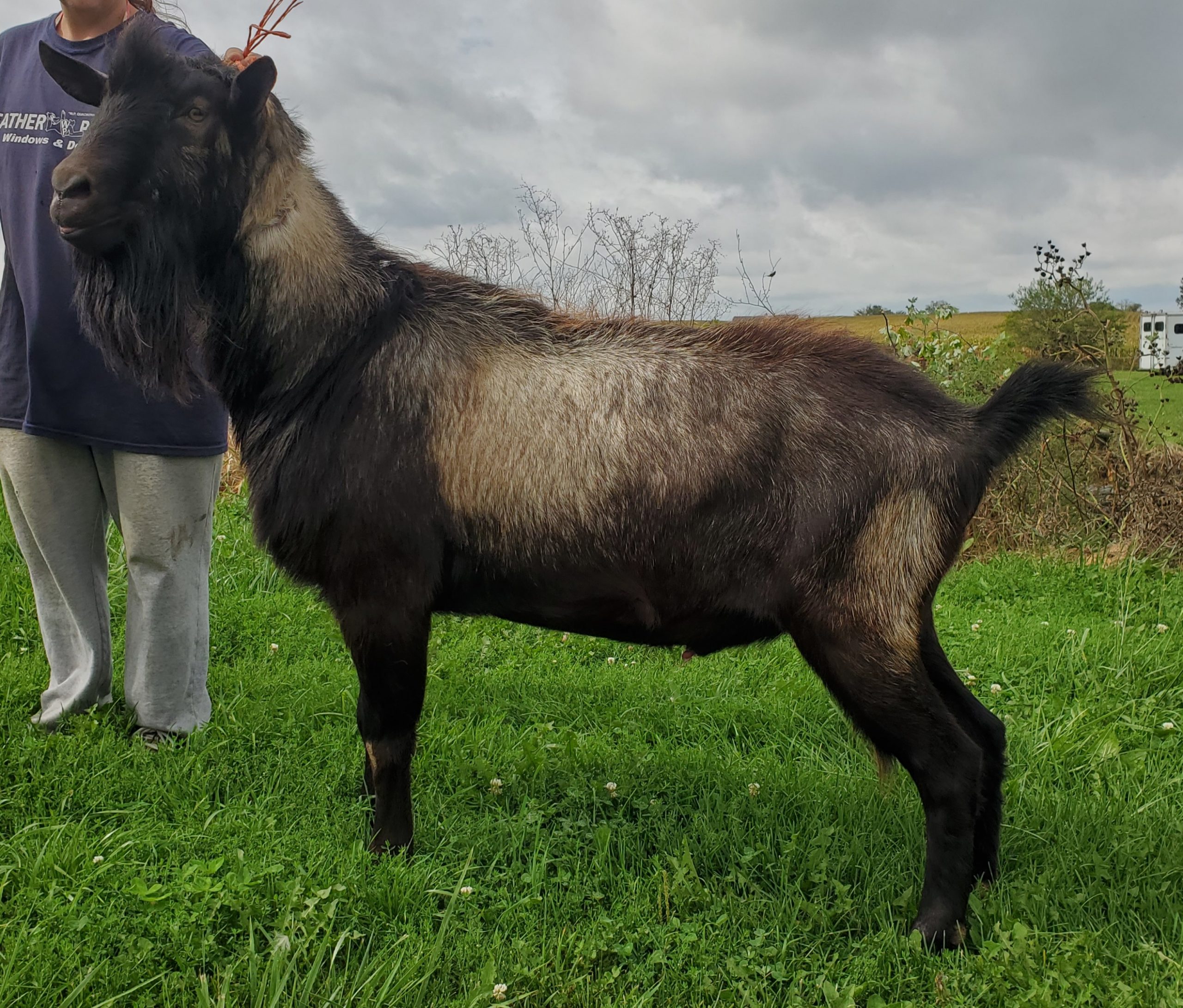 Barn Name: Mat
Reg#: A1924384
Breed: Purebred French Alpine
DOB: 1/27/18
Color: Dark Chamoise w/ Black trim
Casein: A/E
** ELITE ** Sire – per Aug 2020 evals
** DNA on File ** (Parentage verified)
** Collection on file  **
Linear Appraisal History
01-08 +VV 84
03-08 VEV 88 (Scored with Heather's herd at QMF 2021)
04-08 – VEV 88 E's in back and rump
With the loss of my Sr. Herdsire in 2017 (Caprice Acres Disco Volante *B), and knowing my good friend Heather at Quarter-Mile Farms was also going to be herdsire shopping, we decided to pool our resources and money, and thus expand our budget and hopefully acquire a better buck than we could individually. We shopped a LOT of very nice herds and the decision was very difficult. I am very excited to begin working with this young fellow and cannot thank Pleasant-Grove and Craig Koopmann enough for his experience and help in selecting. Mathias had a cou clair brother with wattles, but we asked that Craig select the one he thought would best fit our needs. We are so pleased with this striking buck kid, who just so happens to be my favorite color as well. (yes, my favorite color is 'plain ole' chamoise with black trim!)
Daughters at Quarter – Mile farms: 
Daughters at Caprice Acres: 
Caprice Acres PGM Fancy
---
Dam: CH Pleasant-Grove Zen Mirabell 05-04 EEEE 92; E's in head, front legs, rear legs, rump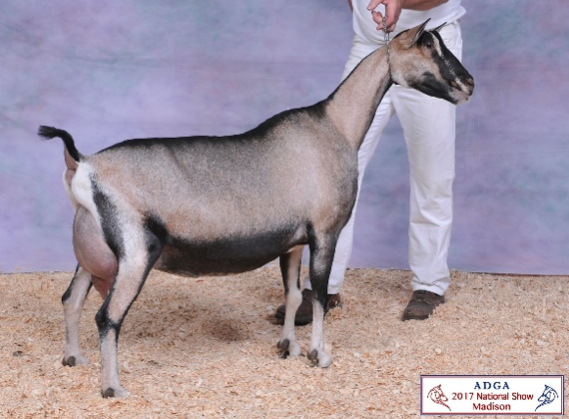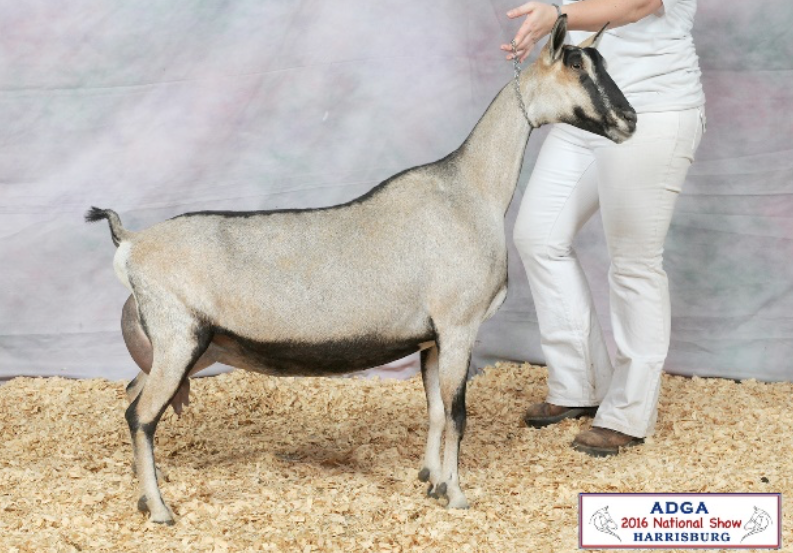 (Pictures courtesy of Pleasant-Grove/Craig Koopman)
A direct quote from Craig's 2018 herd brochure:  "Typical of the Miracle daughters, Mirabell was all legs and fancy mammary as a yearling, so was not shown in 2012. But when broken down for appraisal, there wasn't much to dislike, as reflected in her high yearling appraisal score of VG86. Finally out as a 2 yr old, Mirabell showed some of her potential with a 1st place win over strong competition at the Mississippi Valley Fair. Mirabell was shown 6 times in 2015, with 5x 1st, 1x2nd, 3xRGCH. Out only 1 weekend in 2016, Mirabell was 3x1st, 2xGCH, 1xRGCH. With a milk peak of 14 lbs/day in 2013 and 16 lbs/day the last 3 years, Mirabell is living up to her pedigree. 9th place 5-6 year old 2017 National Show.  In discussing does, this is what Craig had to say about Mirabell: Mirabell is a no nonsense kind of doe; trouble free and milks well. Barn records show 1600 as a yearling, 2400 as a 2 yr old, and 3100-3300 each lactation since. Not quite the extreme 4000 lb production of her dam, granddam, and some maternal sisters, but still well above average in our 300 head herd."
We are excited to add her genetics to the herd, with her level of production and conformation and trouble-free health.
DD: SG Pleasant-Grove SSO Miracle 05-05 VEEE 91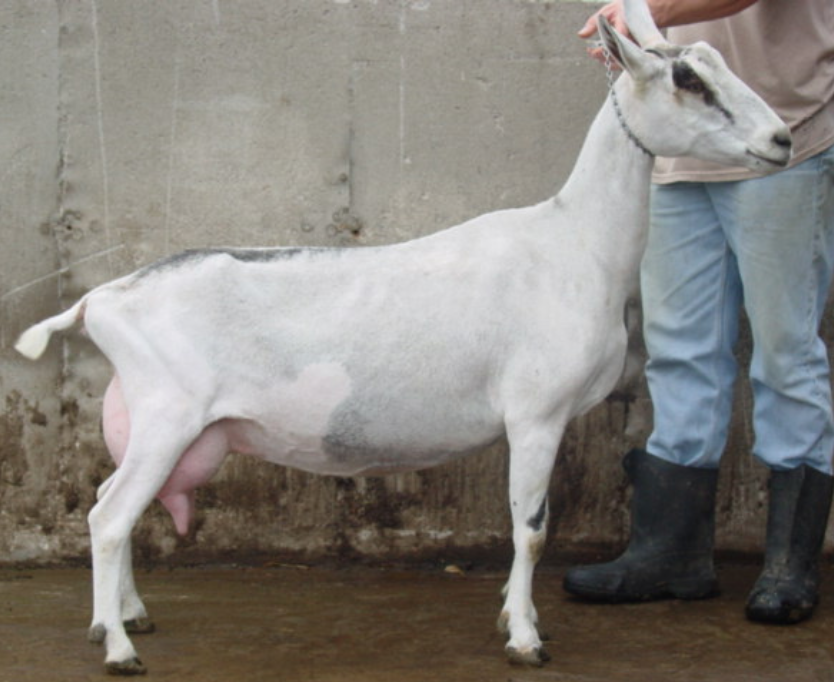 (Pictures courtesy of Pleasant-Grove/Craig Koopman)
another direct quote from Craig's 2018 herd brochure : "Miracle was valued for her high milk production, longevity, and ability to transmit quality. Miracle was a smoothly blended, dairy doe with excellent legs and excellent mammary. Though never on test, Miracle routinely had barn records of 20 lbs/day, while her dam had official milk records topping 4000 lbs milk. Mother of at least 4 daughters appraised EX90 or higher. She has had at least six sons work/working in commercial dairies."
DS: YBNVS Revolutionary Zen – 1 GCH dau, 1 CH dau, 1 CH son. 14 daughters from 4 herds have been appraised a total of 24 times, with an average FS 86.9
DSD: CH Hill N Holler Navarre Zoe 05-06 VEEE 90.   See profile picture HERE and udder picture HERE. These are linked to the YBNVS website photos, but I cannot get the actual website link for her to work, unfortunately. The photos still show up on Google. In case it gets up and running, here is a link to YBNVS. They had several successful daughters of Zoe.
DSS: Hoach's Revolution +*B 05-03 EEE 90 D/Avg 2424#M, 84#F, 72#P.  2 SGCH dau, 3 SG dau, 2 GCH dau, 1 CH dau. 21 daughters in 13 herds have been appraised a total of 45 times, with an average FS 86.6.
DDD: SGCH Pleasant-Grove KVGC Miracle 8*M 06-02 VEEE 91 – One lactation >4000lbs and a peak of 21lbs, and she has many other lactations close to 3000lbs on official test. Quite a productive animal, and with excellent structure and longevity as well.
DDS: Pleasant Grove Super Standout *B – 2 SGCH dau, 2 SG dau, 2 CH dau. 52 daughters in 3 herds with a total of 92 appraisals have an average FS of 88.1
Sire: SGCH Marran Rose's Rochester **ELITE*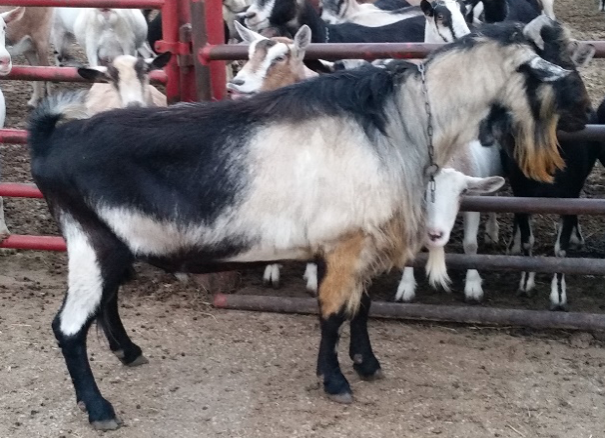 (Picture courtesy of Pleasant-Grove/Craig Koopman herd brochure)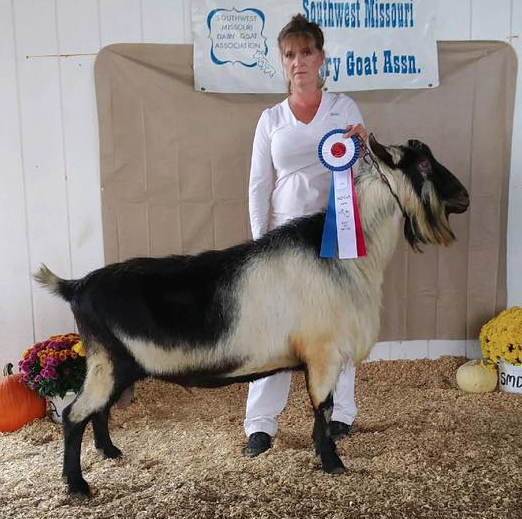 Rochester – courtesy of Marran Website page. Oct 2018 – This was the day he went BOB in 6 rings as well as BBIS.
This boy has type and production, and we are happy to have his son here. Rochester was awarded the 2017 ADGA Nationals Premier Sire and 1st place Sr get of sire, and having 9 daughters placing within the top ten in their class and 4 of those having udder placements!  On official test, Rochester has 5 daughters in 3 herds, with a total of 8 lactations. With just 1.6 average lactations, his daughters are producing an average of 2862 #M,117 #F, 94 #P –  which is quite respectable especially considering the daughters on test are young. I do wish there were more does on test among his daughters, but such small numbers are unfortunately common in dairy goats.  He has 4 CH daughters and 1 SG daughter.  Daughters at 2013 ADGA Nationals placed 3rd, 4th, and 11th in their respective classes.  He has had 6 daughters appraised a total of 7 times, with an average score of 86.4. Incredibly, all those scores used in the average except one (a 3 year old at VG88) are yearling animal scores. He has been shown extensively, with 14xBOB, 11xBBIS, 6xGCH, 1xRGCH, shown 15 times (last I checked in spring 2018).
SD: CH Marran's Rapture's Rose – 5x GCH, 2x BOB, 2x BIS, 4x RCH
SDS: CH Nodaway Must B Fate – 1 GCH offspring, 3 CH offspring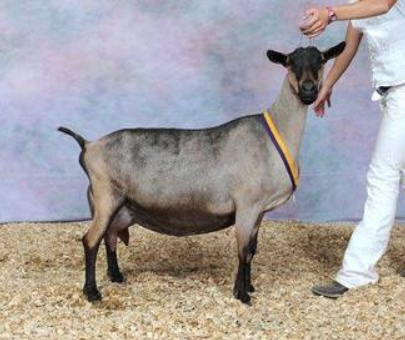 SDD: CH Nodaway SGG Raya's Rapture – Nationals RGCH 2013. Reportedly a superb milker though no official records are listed for her.
SS: SG Sunshine Conina Condor +*B 04-03 VEE 88 d/avg 2076M 82F 64P. 1 SGCH son (Rochester, above), 29 SG offspring. 36 daughters in 6 herds appraised a total of 49 times with an average FS of 86.1.
SSS: SG Sunshine Seign Serafin ++*B 03-05 +VE 85 13 SG offspring. 13 dau in 5 herds with 27 appraisals have an avg FS of 86.1
SSD: Sunshine Schwarzee Conina 4*M 02-00 VV+V 86
---
Thank you to Marran Dairy Goats and Pleasant-Grove herds for the approved use of photos for the website! See their lovely herds at the following links:
Marran Dairy Goats – Facebook page