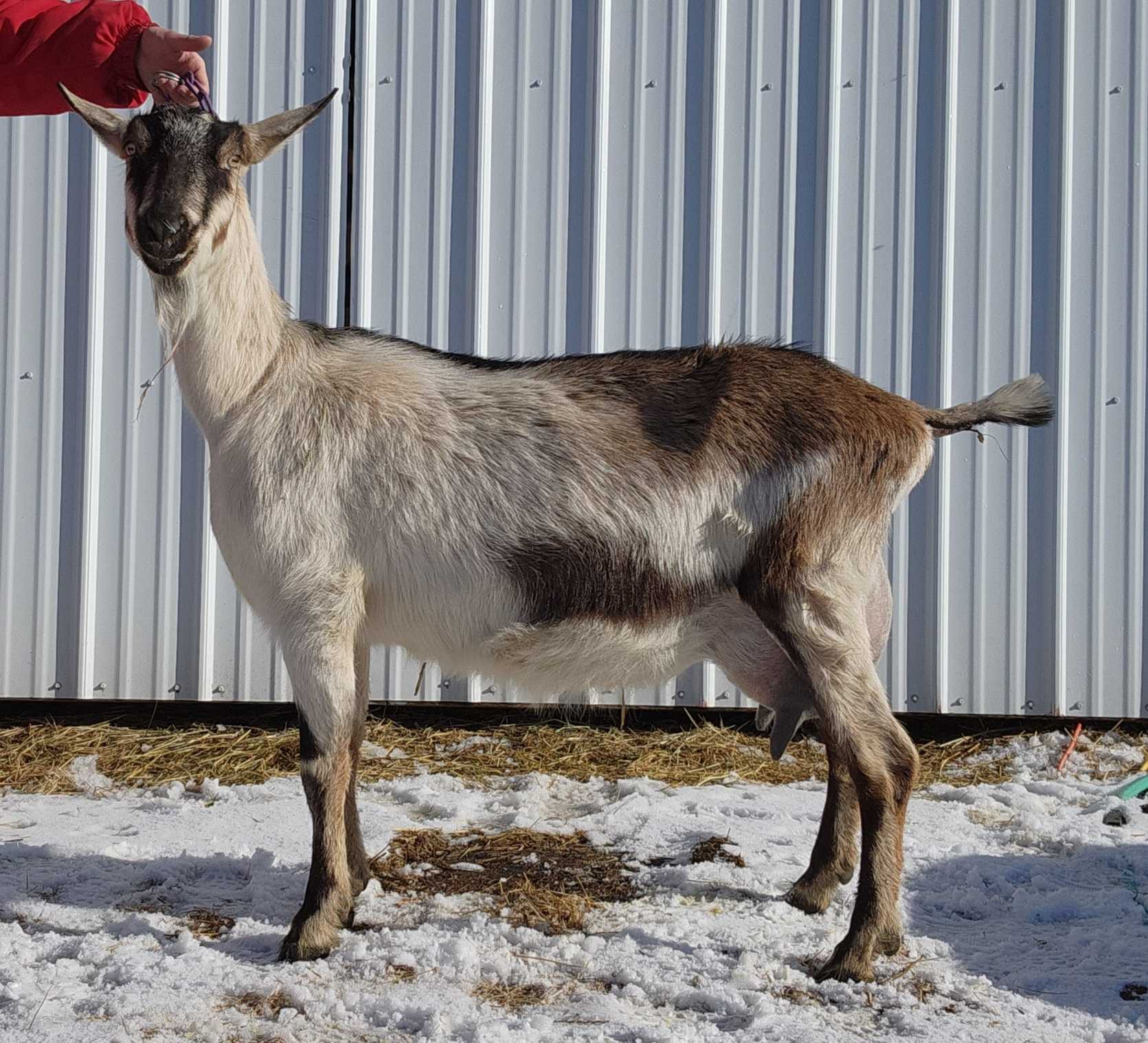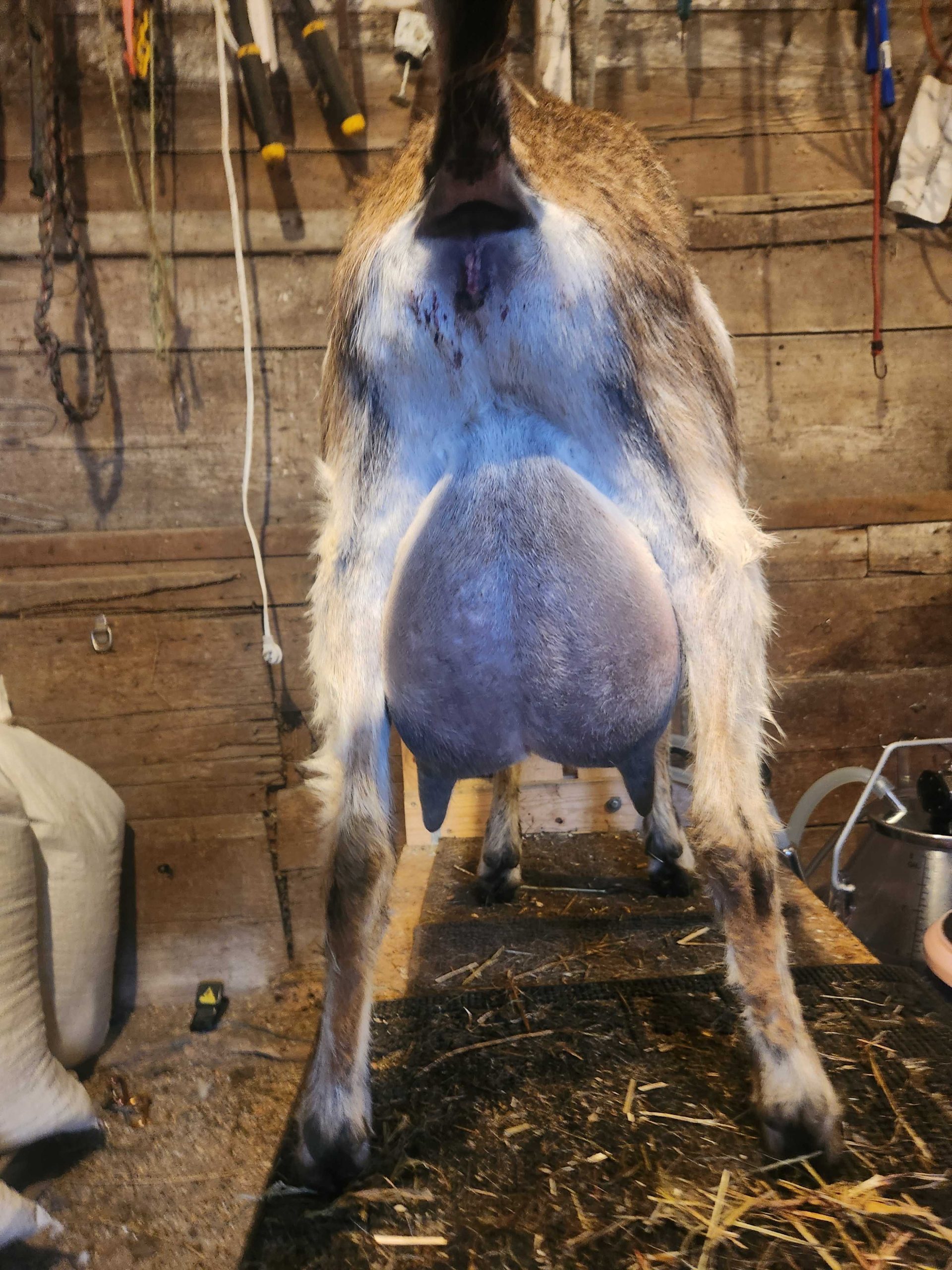 Pictured spring 2023
Barn name: Brazen
Reg#: PA2166807
DOB: 3/14/21
Book: Purebred French Alpine
Color: Two tone chamoisee
Casein: B/F
** DNA on file **  parentage verified
Linear Appraisal History
2022 – 01-06  ++G+ 80
2023 – 2yo GEVV 87
DHIR
Yr      Age    DIM     #M     %F    #F   %P    #P    Peak#
'22   0-11      244     1960     3.9    76    3.1.     61.     10.3#
Freshenings:
2022 – kidded buck/doe twins 3/12/22 sired by CH La Sierra Wahoo. Retained both – Panda and Bodacious. 
2023 – Twin does sired by *ELITE* Mathias EX91.  Retained one – Lovinia
Breeding plans:
Cull. After having to pick her teat ends open due to wax/scab like things plugging her teats between every single milking which required teat dialators and extremely slow milk outs – she developed mastitis which further ruined her udder. And she's always had very poor area of attachment, lacking especially in fore and laterals, with a marginal-at-best rear. It's a wonder it appraised V in 2023 (prior to mastitis). I wouldn't wish Brazen on my worst enemy, so retaining her daughter and putting Brazen in the freezer. She'll make decent tacos and sloppy joes I bet.
---
2021 – Little Brazen made the trip up with the rest of the herd 4/22/21. Sometime during transport or immediately after she managed to break her foot on her right rear! She has been splinted and we are sure she will recover, but unsure how straight the foot will be. Time will tell, and she is doing great otherwise. 🙂
2022 – She milked her little heart out as a FF, hitting numbers similar to the older does after having had twins. Unfortunately when push came to shove >200 DIM, we had a few events pretty close together where due to my job, the does went many hours or even 24hr between milkings and it hit some does pretty hard. You can see her lactation drop right off about that time. Before then, she was cruising right along. Unfortunately I'm not terribly impressed by her udder. She started out with a capacious globular udder with more pocket than I'd like in foreudder – but I see that sometimes with does lacking maturity and didn't worry me much… but as lactation progressed, I realized how small of an actual attachment area she really has. Unfortunately I do not suspect future freshenings will improve this. She otherwise reminds me a lot of her EX90 dam, but her dam has a superior udder. I rarely see them go so far backwards in udder structure and expected more of Brazen's sire – an ELITE sire also chosen based on udder structure evals that should have COMPLIMENTED her dam, Red, quite well. Goat genetics just are not as predictable as we'd like. Awaiting her 2023 freshening now, as she is a productive doe and a 2nd lactation I'm expecting excellent production at the least.
Dam: Caprice Acres Irish Red (Click to go to her page!)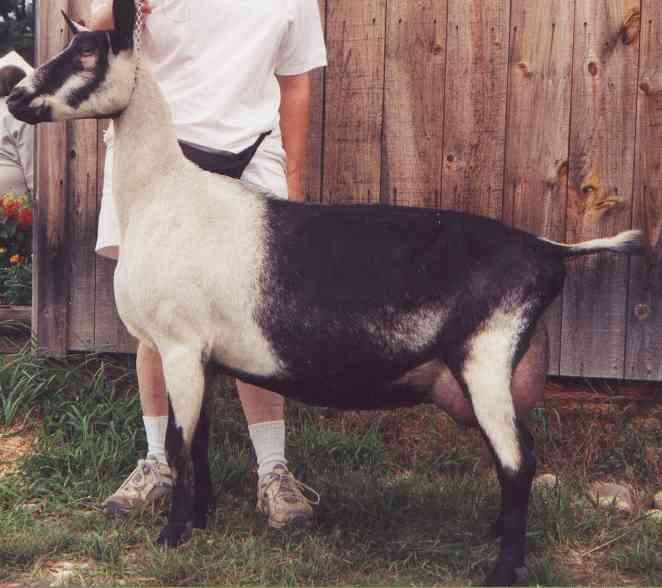 Sire: GCH Roeburn's Legacy +*B *ELITE* (Click to go to his page!)