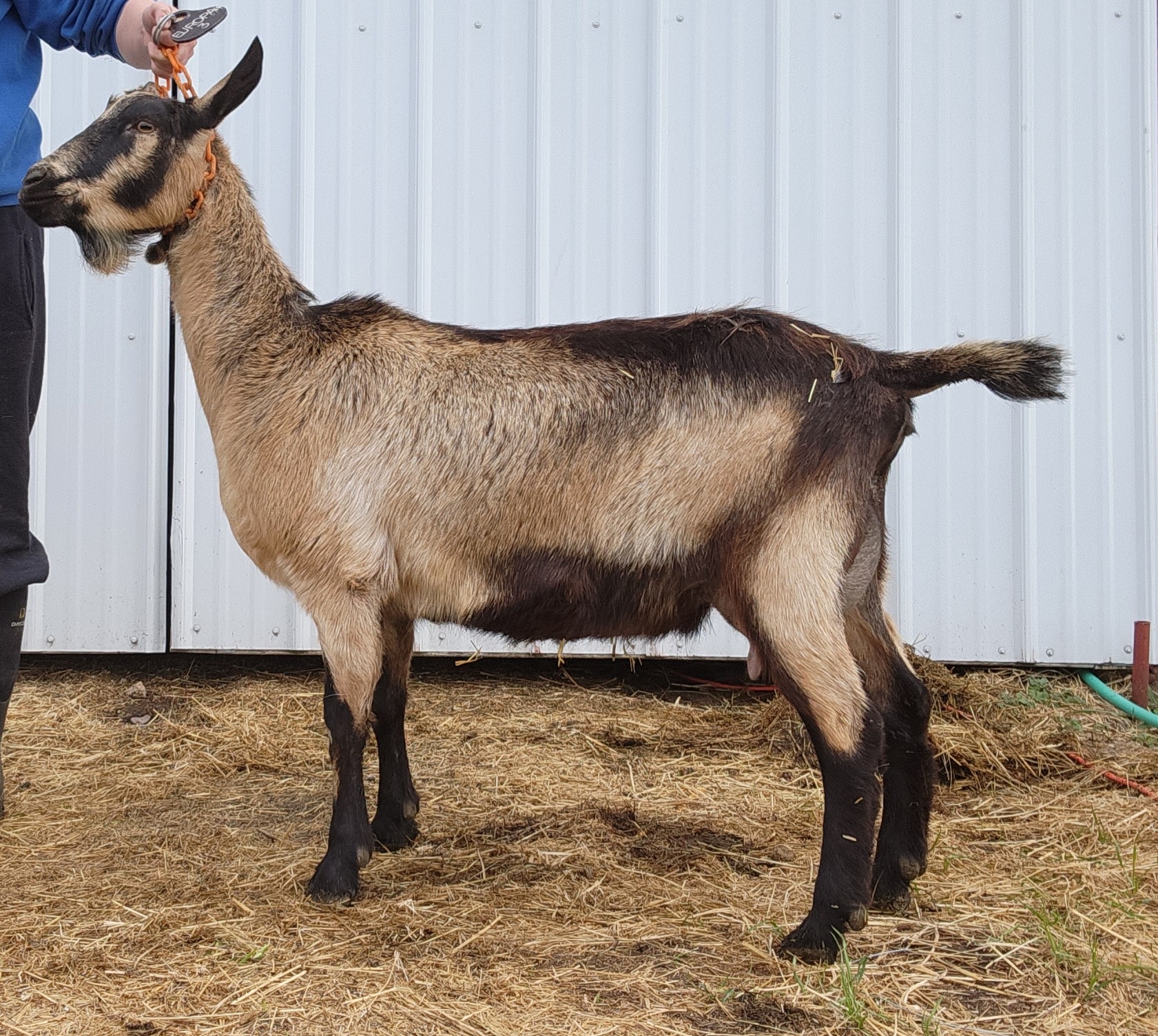 Barn name:  Ropey
Reg#: AA2212101
DOB: 1/23/22
Book: American
Color: Dark Brown Cou Clair; Wattles
Casein: B/E 
** DNA on file, parentage verified ** 

Linear Appraisal History
2023 – VVGV 85 @2yo
DHIR
Intended to be on official test in 2023
Freshenings:
Kidded April 2023 with buck/doe twins!
2023/2024 Breeding plans:
AI: SGCH Luiz's Phrosty Phrisbee +*B 
LC: Caprice Acres SSO Vladimir
---
Dam: Caprice Acres PGM Fancy is sired by our ELITE herdsire, Mathias. Her dam was SG Panache, a doe I reluctantly sold due to the endless game of keeping numbers in check. Fancy's maternal pedigree also includes a foundation doe, SG Glitterati EX91. Fancy has a GORGEOUS high rear udder and her structure is just awesome.
Sire: Chairein Astro Jet *B *ELITE*– Astro Jet is out of a doe of extreme quality and longevity.
Sire's Dam : SGCH Chairein Yankee Hazel 4*M After achieving the highest LA score possible as a FF (VG89), she has appraised EX93 twice and EX92 a whopping 4 times. In 2021 as an 11 year old, she scored 93 EEEE.  If that was not enough, she has 10 lactations on official test. Her lowest official record is 3790#M, 150F, 126P, and her highest is 5290#M,201#F, 174#P! Three records over 5000lb milk. Simply astonishing. She is pictured as a reference doe on the Mighty Pine Alpines website, scroll down HERE
Europa herself is 'built different'. Born with two brothers who I reluctantly sold for meat (no space!), they were all consistently large kids, vigorous. The BONE to these is formidable. Could not have asked for better conformation – seriously may be the next game changer for my herd.