2021 Animals for Sale: 
I currently have 2 does in milk available, 1 doeling, and 1 buckling available.
---
Caprice Acres Danziger Tertia – AMERICAN ALPINE – 400.00 – Click name or picture to go to her page for more pictures! DNA parent verified, casein tested F/F. Yes, I'm parting with an Elise daughter who I bought back. I really could keep all of Elise's daughters and be happy, but Tertia is just my least favorite out of my favorites 😉 I have 2 other Elise daughters, a son collected, a 2021 grandson in the keeper pen… I really wish I'd gotten a daughter to keep from her AI to Phrisbee this spring, but alas – just a single buck.  She is not a doe I'd keep or sell a buck kid out of and her son was wethered. Tertia is a large doe, in milk, making about 10-11lbs on official test. (She dropped from 11 to 10lbs with the move, as is not surprising). RECOMMEND A MACHINE to milk this doe. She has the worlds tiniest teats. Previous owner hand milked her so she is used to both, but until she is milked out a bit those teats are so hard to get a grip on. She is a powerful doe, holds condition incredibly well because she knows how to eat and is rather a boss doe. Faults include she could have more level of a rump, she has feet that need regular special attention, and she does have a small foreudder pocket as well. But if you want milk, I think she'll fit the bill.
---
Caprice Acres Bane's Pizazz – 2021 AMERICAN ALPINE doeling – 350.00 Registered, tattooed, disbudded, Casein pending.  Flashy broken chamoisee, this little girl has a beautiful wide head and overall structure. Her dam, Flair, is an interesting doe. She is not immediately the best FF in the pen but she brings in a lot of interesting traits and I can't wait to see her more mature. Flair's dam (Pizazz granddam) is my foundation American doe, SG Caprice Acres Glitterati 2*M EX91, and sired by SG Sodium Oaks SP Wahoo. +*B. Wahoo introduces some amazing Sodium Oaks lines from the 80's, click his name to see more.  Pizazz's sire is a homebred buck, Caprice Acres Outback Brisbane, and we are loving his first kids so far. He is sired by Evermore Outback ++*B, again older genetics with high production. Bane's dam is my own Caprice Acres Irish Red who is producing and looking quite well this year despite the move. Flair herself has one of the best foreudders I've bred, just beautifully attached and long. Rear udder is quite high.  She is one of the lower FF producers unfortunately producing 5.7#M on last test. Teat placement could be closer and the udder lacks a medial, but I don't harshly judge FF udders on production or teat placement/medials as those traits change so much with future lactations and increased production. She has a soft udder texture and easily hand milked teats despite placement. Flair does tend towards posty legged and I suspect Pizazz does as well, but that is a trait I'm personally not terribly worried about correcting, have plenty of live and AI sires I think will do the trick.
---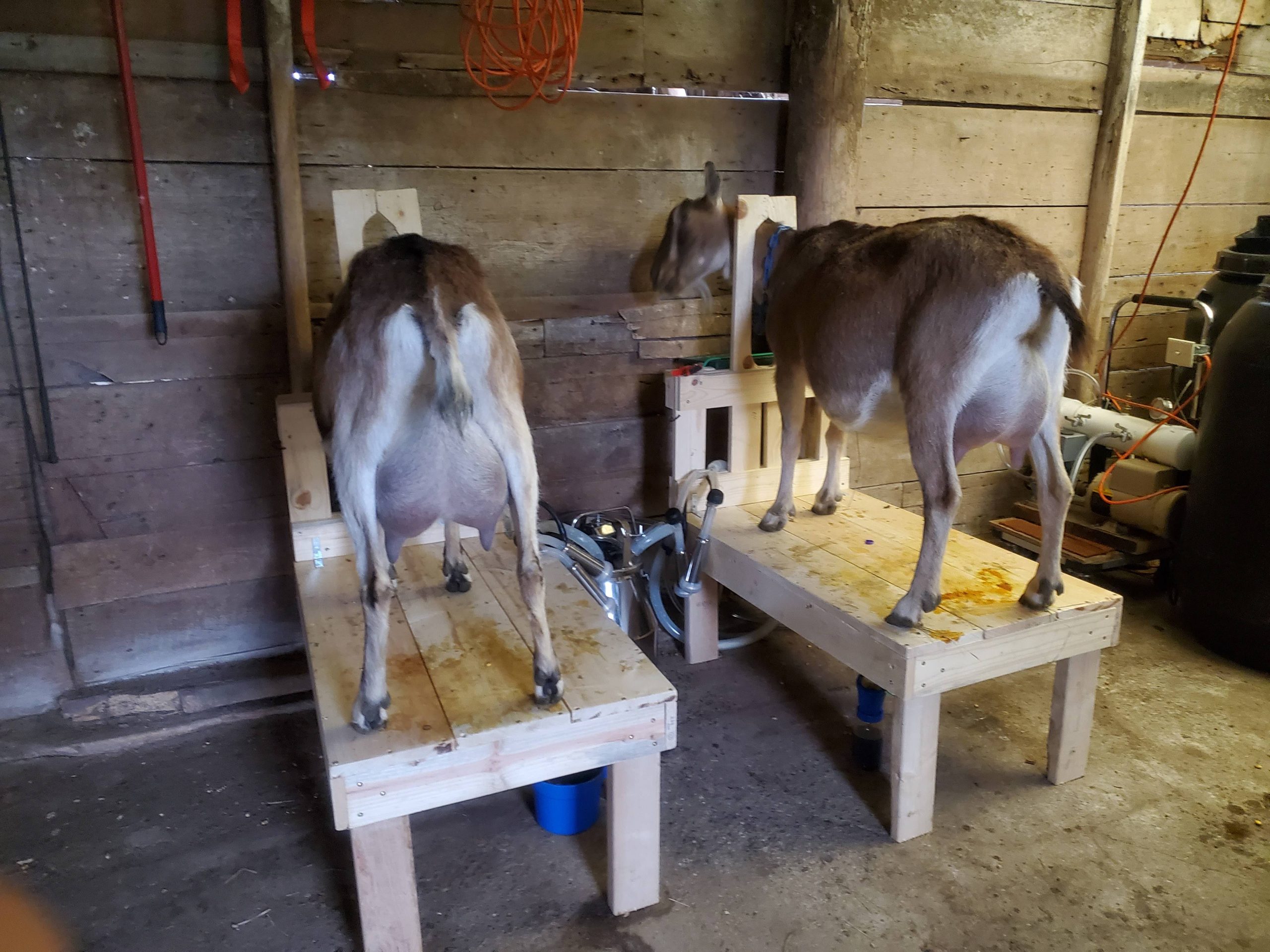 Caprice Acres Legacy's Bold – FRENCH ALPINE – 350.00 – Registered, tattooed, disbudded. Will happily do parentage verification DNA at my expense if ADGA figures out how to do DNA on their new system update. 😉  The only buck kid we're offering 2021 is an AI kid out of my highest current producing doe, (Caprice Acres Irish Red, and sired AI by GCH Roeburn's Legacy +*B *ELITE* . "Bold" is a lightly marked Cou Blanc and is as promising as his sister, Brazen. Pictured above is his dam (Red) and maternal granddam (Elise).
---
Semen
I will consider and respond to any inquiries about my bucks I have listed as AI sires. However, many of the purchased sires were purchased by me with big future plans and I am a bit of a hoarder. Many of the bucks I've selected are not 'popular' bucks but have traits or PRODUCTION that I find impressive, and I am willing to work with them.  I am currently not that inclined to sell any of my 'hoard'. If I have a large amount of a sire, or if it would be used in a performance program herd, or purchasers are local and only want 1-2 straws, or could offer an interesting trade I may be more inclined to part with some.
Trades/incentives I may be interested in would be:
Direct Swap for semen or live service from an equally interesting buck

Access to live service or semen from a buck kid that results from the AI performed (dependent on dam quality and production)
I am more willing to part with bucks I've owned and had collected personally, as I have the largest quantities available on them, more than I ever plan on using. I STRONGLY prefer they go to herds on performance programs, however, as it will help me as well in that case.  All of them have DNA on file, Casein tested, and their collections on file as promptly as possible after collection.  These boys include:
Sunrising Charmer Weizenbock *B FRENCH 03-06 VVE 88 Casein E/F
2016 Two Tone Chamoise
Willing to part with 20 straws (2 canes). 100/5 (20ea), 75/5 to performance homes (15ea).
Caprice Acres Disco Volante *B FRENCH 02-03 +V+ 84 Casein B/F
2014 Lavender Cou Clair
Willing to part with 10 straws. 75/5 (15ea) performance home. Performance homes 50/5 (10ea)
Giesler's Sharp Dressed Man FRENCH 05-03 VEE 89  Casein F/F
2011 Cou Clair
Willing to part with 10 straws. 100/5 (20ea), 75/5 to performance homes (15ea).
Pleasant-Grove RR Mathias *ELITE* – FRENCH 01-08 +VV 84 Casein A/E
2018 Dark chamoise
Willing to part with 17 straws. Has had 2 teat defect kids from the same doe, but many dozens of normal kids from other matings. 100/5 (20ea) non-performance home; 75/5 to performance homes (15ea).
Caprice Acres Wahoo Huzzah *B – AMERICAN Casein E/F
2020 Sundgau Cou Noir
Willing to part with 5-10 straws. 75/5 (15ea) non-performance home. Performance homes 50/5 (10ea)
Caprice Acres PGM Dark Roast – FRENCH Casein E/F
2020 Solid Chocolate (dilute)
Note – color could cause toggenburg marked offspring when breeding to sundgau as the dilute gene replaces all black color with brown. Toggenburg marked alpines are a show fault – but are not DQ's, are still registrable, recognized, and able to participate in all performance programs otherwise without consideration. Willing to part with 17 straws. 75/5 (15ea) non-performance home. Performance homes 50/5 (10ea)
Caprice Acres Outback Brisbane *polled*  FRENCH Casein B/01
2020 Cou Blanc
Willing to part with 10-15 straws. 75/5 (15ea) non-performance home. Performance homes 50/5 (10ea)
---
Sales information:
I raise livestock and do my absolute best to raise high quality, healthy animals.
All sales are final and I make no guarantees of ongoing health, performance, or progeny performance after animals leave my care under new ownership.  While I will always offer healthy animals to the best of my ability – If you have concerns over quality or suspect an animal is not healthy at time of sale, do not purchase it.
Full/partial refund or replacement is an option for severe functional defects or infertility that are heritable in nature or innate (not acquired). This may include multiple teats or teat defects, severe bite problems, wry face etc. Impaired fertility would need to be verified by a veterinarian.
While I do wish to 'do right' by buyers, I also refuse to be taken advantage of especially for things that are outside of my control.  If you have any concerns, please contact me asap. I cannot give treatment advice without a VCPR (veterinary client-patient relationship) but any potential help or replacement/refund indicated won't be offered if I'm not aware of a problem!