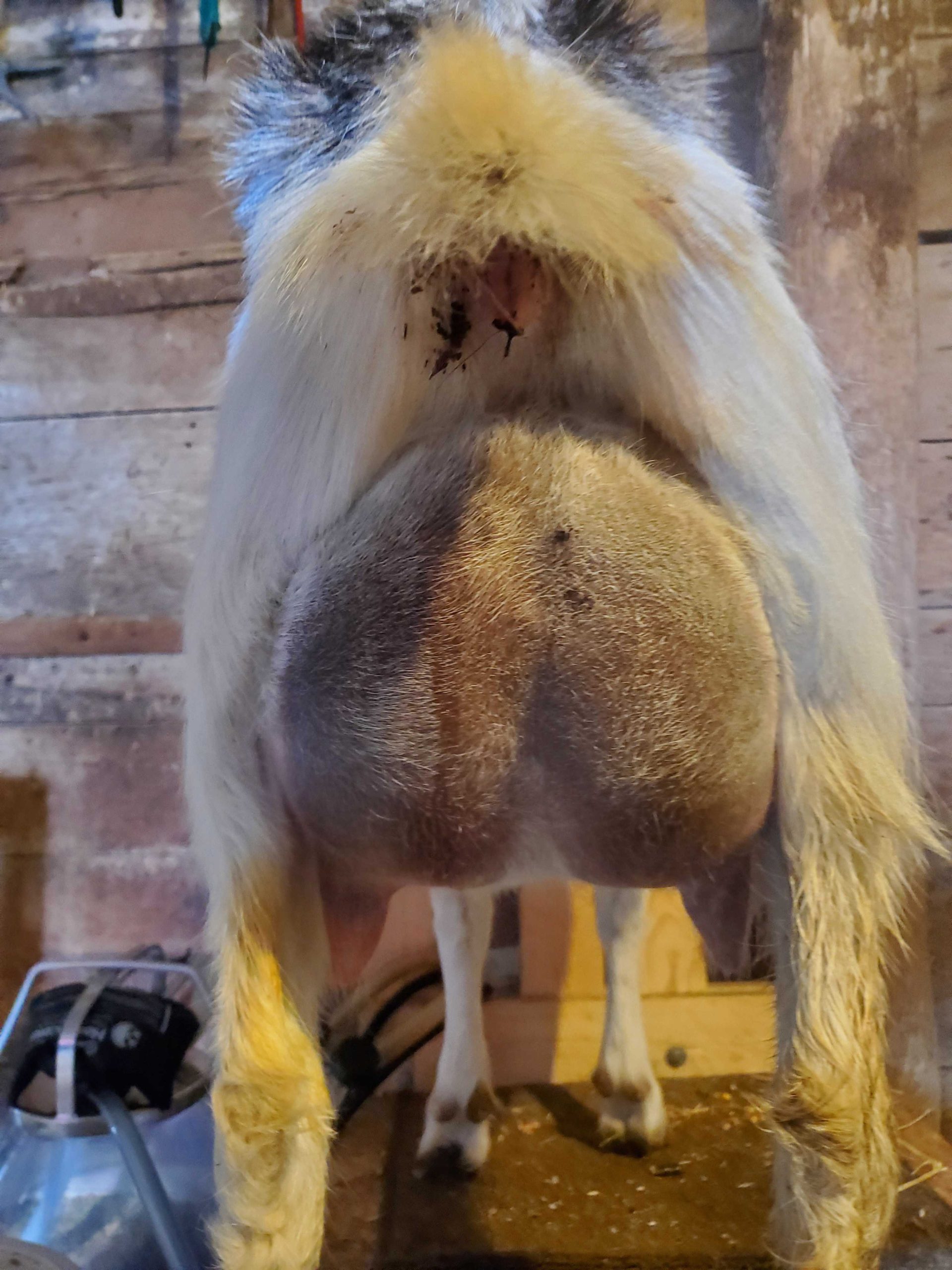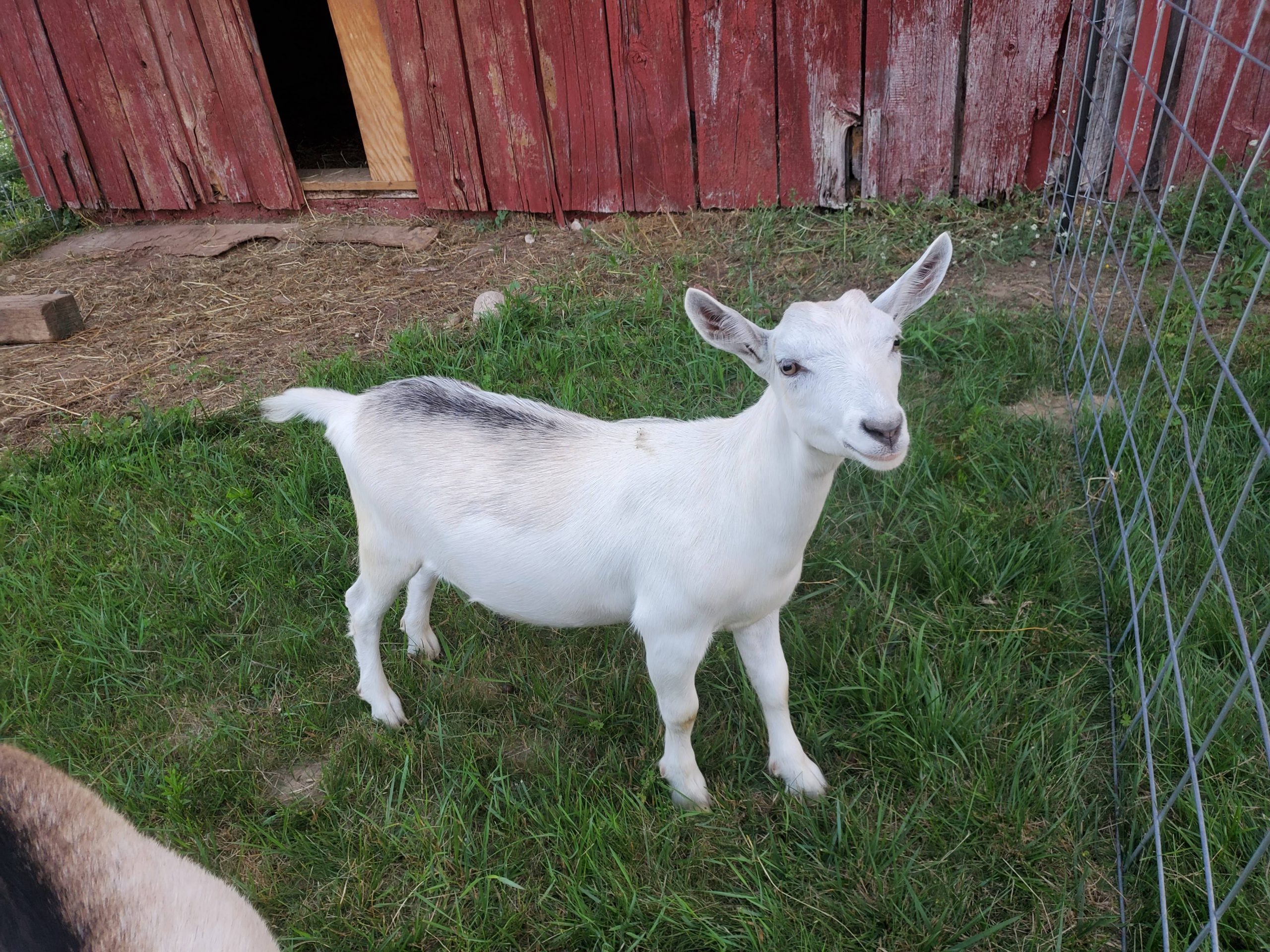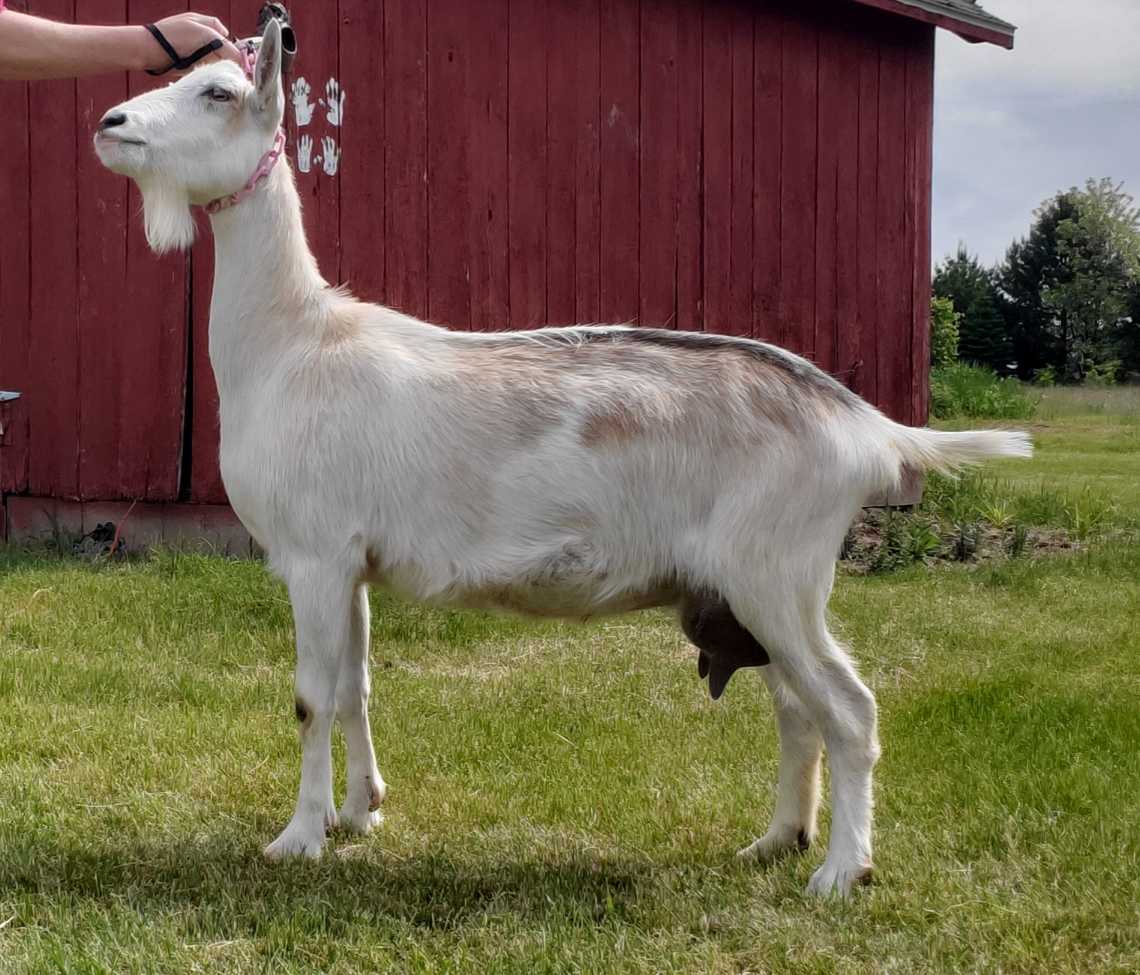 Barn name: Kissie
Reg#: PA2167144
DOB: 4/2/21
Book: Purebred French Alpine
Color: Reg as cou blanc, but with age is clearly a broken cou clair! (see above pics!)
Casein: B/E
** DNA On File ** sire verified
Linear Appraisal History
2022 – Will be appraised pending program availability and freshening!
DHIR
Yr      Age    DIM   #M      %F    #F    %P    #P    Peak#
Freshenings:
2022 – Kidded buck/doe twins sired by Alakai 3/12/22. Retained Caprice Acres Alakai Caldera who I then lost in a freak accident in late April.
Breeding plans:
Will not be bred again, she will be culled. She had a severe injury to her right rear hock, suspected rupture of a collateral ligament that has led to severe instability in that joint. The end of her first pregnancy was extremely hard for her to be mobile, and I do not wish to put her through this again. It also completely altered her rear leg/rump assembly – going from reasonable conformation in rump and rear legs to a train wreck as she tries to compensate for massive instability in a major joint.  Was hoping she'd bounce back after kidding and while she's more mobile due to the 'weight loss', she is not like a normal doe in mobility. She has age on her side in this case, but she will only get worse with time not better as juvenile arthritis sets in, and carrying pregnancies would make everything exponentially worse. I worry she'll never compete in a larger doe herd either – she currently lives with Brazen, separate from the adult does. We don't have pets here, we have livestock – and I think quality of life and her needing to be a functioning member of the herd to stay here adds up to a career change to help fill our freezer. She is very sweet, but there is no room for extra non working does and we could use more meat in our freezer as well. She is doing well with her first lactation so she will continue to be milked until a full lactation is complete and then she will fill our freezer.
---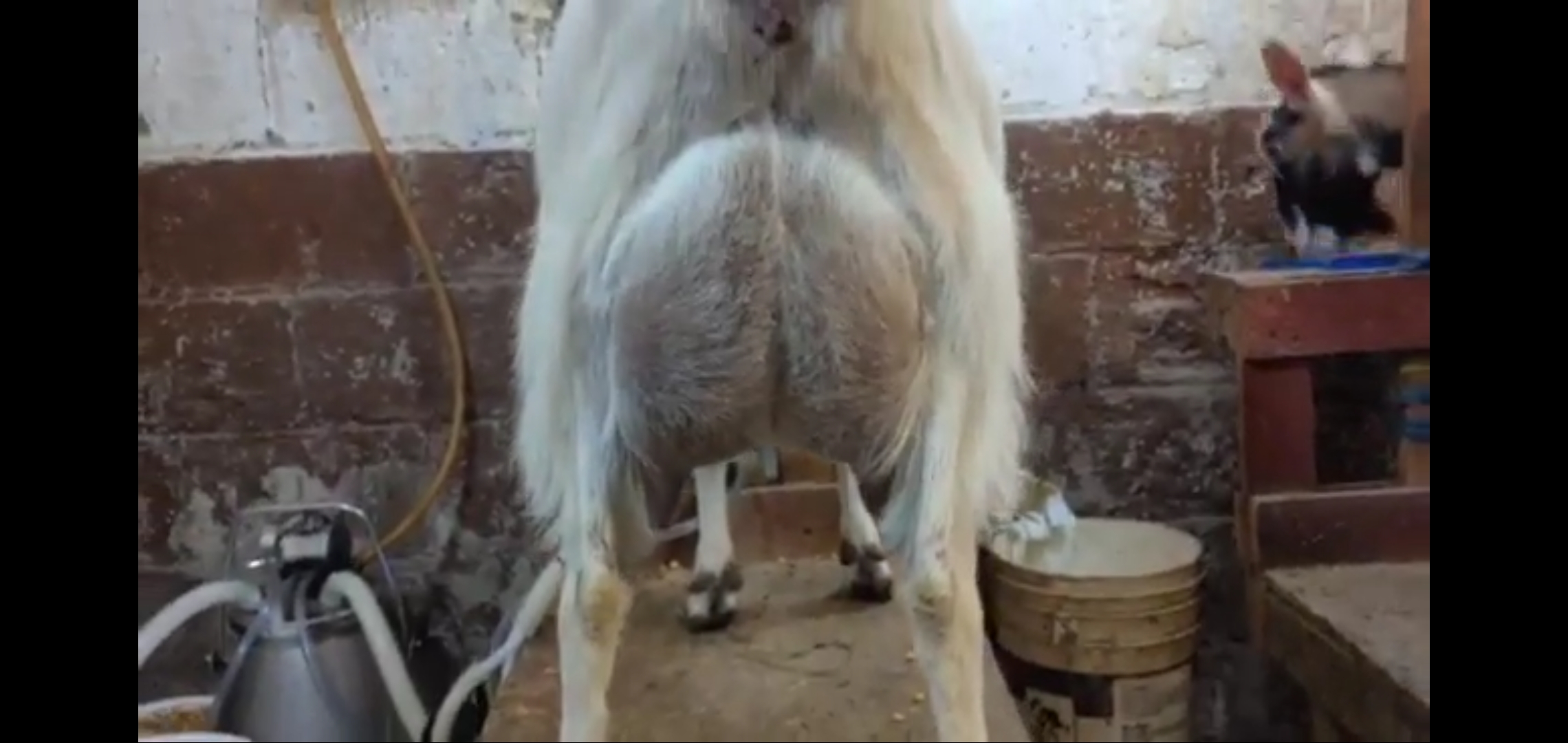 At some point winter 2022, Kissie suffered severe injury to her right rear hock, suspect rupture of a collateral ligament meaning she has no stability in her right hock. Late pregnancy was extremely difficult for her mobility. The cause is likely both due to her carrying twins, as well as being overweight (my fault), and possibly slip/fall on ice is my suspect. She struggled to walk and jump on the milk stand at end of pregnancy, and still hesitates and has to think about jumping up *EVERY* time for milking. She can do it, but this injury will likely predispose her to early onset arthritis in that limb, and every future pregancy will likely add even more stress to that joint.   Due to her difficulty carrying twins with this injury, I have decided she will not be bred again or sold and instead will likely be butchered as I don't keep pets in my herd and it would be a disservice to her . It is such an immense shame as there is much to LOVE about this polled doe. She is a high casein carrier, She is exceptionally wide in her chest and between her hocks, but due to the injury she has a very odd gait and steep rump posture in the rear but she is not inherently structured this way in my opinion. Her rear udder is HIGH, probably the best in my herd, and so, so wide to fill that wide rump. My only compliant is that I wish she had more foreudder extension. She is producing quite well despite injury, and has been very healthy otherwise.