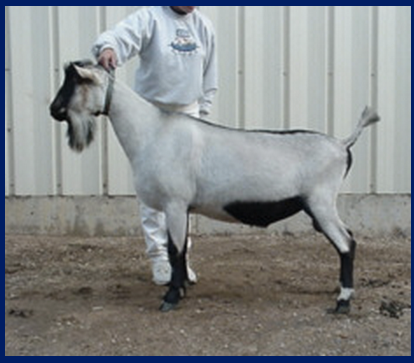 05-04 EEE 93
D/Avg 3065lbs 115lbs fat, 93lbs protein
He has 5 SGCH offspring, 3 SG offspring, 1 GCH offspring, and 3 CH offspring.
I have long admired this buck and especially his pedigree and his daughters, and am ecstatic to have him in my tank! I hope to successfully use him in my American program in the years to come. He is a two-tone chamoise.
Link to Hallmark's page on the Mamm-Key Website
Dam: SGCH Cherry Glen T. Holly's Hope 2*M 05-04 EEEE 92 was a beautiful and productive doe. She was National Champion in 2001 and RCH in 2003. All while managing 3,000lb lactations. Please see this link to the Cherry Glen website "Reference" Page – please scroll down to "2001 National Champion" To read about Hallmark's dam.
Sire: GCH Tempo Aquila Free Radical ++*B 02-03 VEV 87 Again a link to Cherry Glen website, the "Free Radical" family page to see pictures of his sire and some of the does on his sire's side.  Additional pictures of Free Love and Free Spirit here!
Thank you Tina Antes (Mamm-Key Alpine Dairy Goats) for the opportunity to purchase 5 straws from this buck!
(updated 11/27/17)