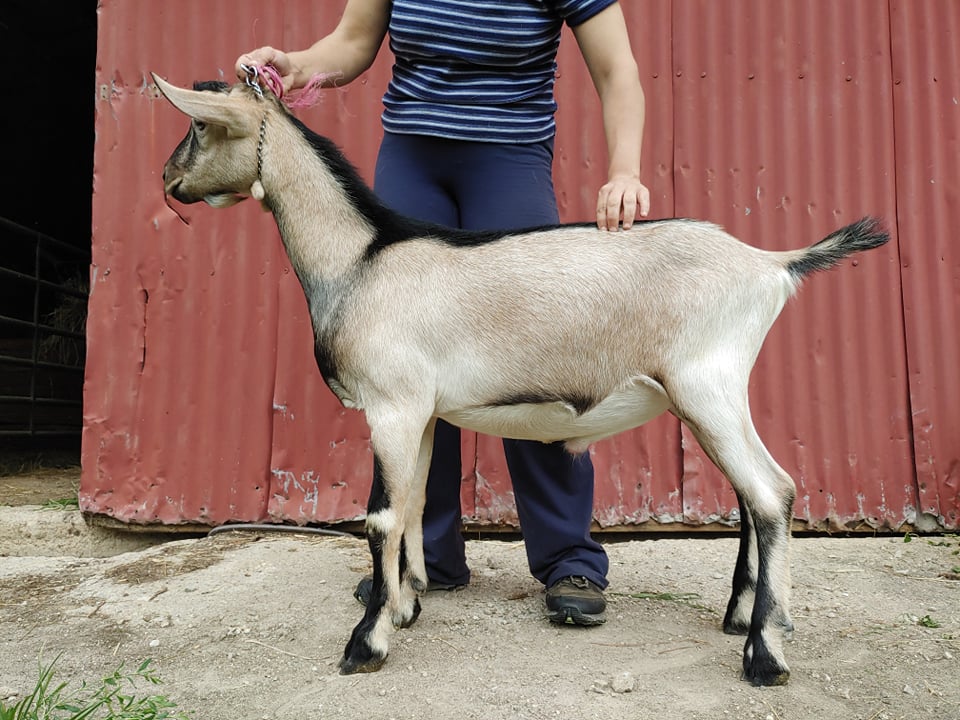 Aja is graced with a powerful pedigree. He is a littermate to Nodaway Moon Dragon and more than half-sibling to many notable animals. I say 'more than' half sibling because many of his notable siblings are Nodaway Mystical Sorcerer offspring, whereas Aja's sire is a Sorcerer son.
Dam: SGCH Sudbury Hill SS Ariel 2*M 06-03 VEEE 90 Nat RCH 1988 (click name for picture!). Ariel was a potent dam, producing 5 SGCH offspring, 1 SG offspring, and 1 CH offspring out of a total of 12 registered offspring. She herself was a respectable producer, with all but her first lactation >3000lbs, most closer to 3500lbs.  She averaged 11lbs/day on test with 1,543 days on test.  Her Sorcerer daughters all produced >3000lbs and classify Excellent as well. (See another picture HERE). Ariel is mentioned in the Nodaway French Alpine history page on the Alpines International web page.
DD: GCH Sudbury Hill Flint Abba 1*M 05-04 +VVV 85
DS: Sunshine Stella's Strike ++*B 08-04 VVE 86 D/avg 2550lb
DDD: CH Caledonia ROM Andrea
DDS: Diamond Flint ++*B D/avg 2157lbs
DSD:  GCH Diamond Sunshine Stella 3*M 05-05 VEEE 91 Reserve NatCH 1977, NatCH 1976
DSS: SG Sunshine Robelta's Roscoe ++*B 03-04 VVV 88
S: Nodaway Sorcerer Lunacy *B 05-02 VEE 87 – A son of the potent Sorcerer.  Picture is an old UCN ad for Lunacy, pictured is a daughter. More dau pictures : HERE, HERE.
SS: SG Nodaway Mystical Sorcerer ++*B 06-02 EEE 90 D/avg 2471lbs. Picture is old UCN ad for Sorcerer, pictured is a daughter.
SD: Serendipity's Daydream Fantasy 6*M04-01 VVVV 88
SSS: SG Redwood Hills Acclaim Mystic ++*B 02-02 VEV 90
SSD: GCH Nodaway Samatha's Sabra 5*M 06-02 +VEE 88
SDS: GCH Redwood Hills Marvelous Profet ++*B D/avg 2798lbs
SDD: Serendipity's Daydream 5*M
A NOTE ON PICTURE LINKS: Unfortunately directly linking to photos on facebook means that URL's time out and the link becomes a dead end. A shame, because I do not have permission to show photos directly on my website for many of the ancestors to my AI animals. Many of these photos are available for you to find on the Dairy Goat Pedigree Chat facebook page albums, which are mostly old Dairy Goat Journals.  If there is a dead link, the picture likely does exist but you'll then have to find it yourself – easier said than done but can be quite fun to look back through the pictures! :
Direct link to the Dairy Goat Pedigree Chat page – consider joining today!