SEE PHOTOS OF HIM HERE, Gene Dershewitz's public flickr photos. Mostly candid unposed shots, but those are the ones I like best. 😉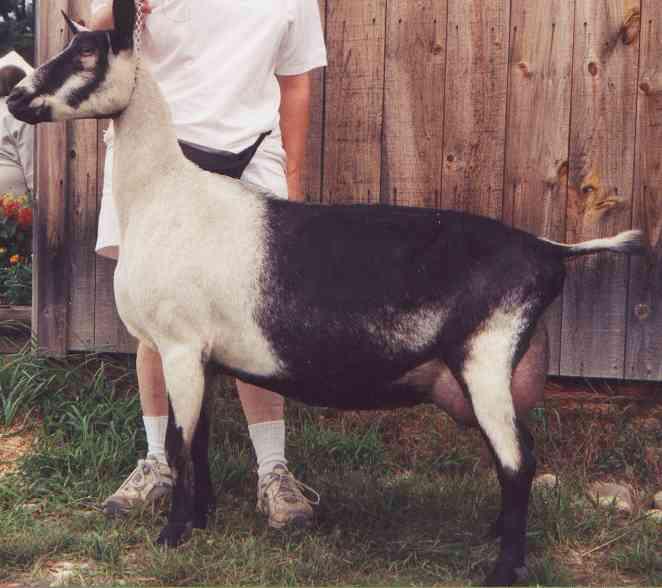 Dam,  SGCH Roeburn's BR Rose of Sharon 6*M 05-03 EEEE 92 – Photo courtesy of Cathy Mabie/Roeburn's Alpines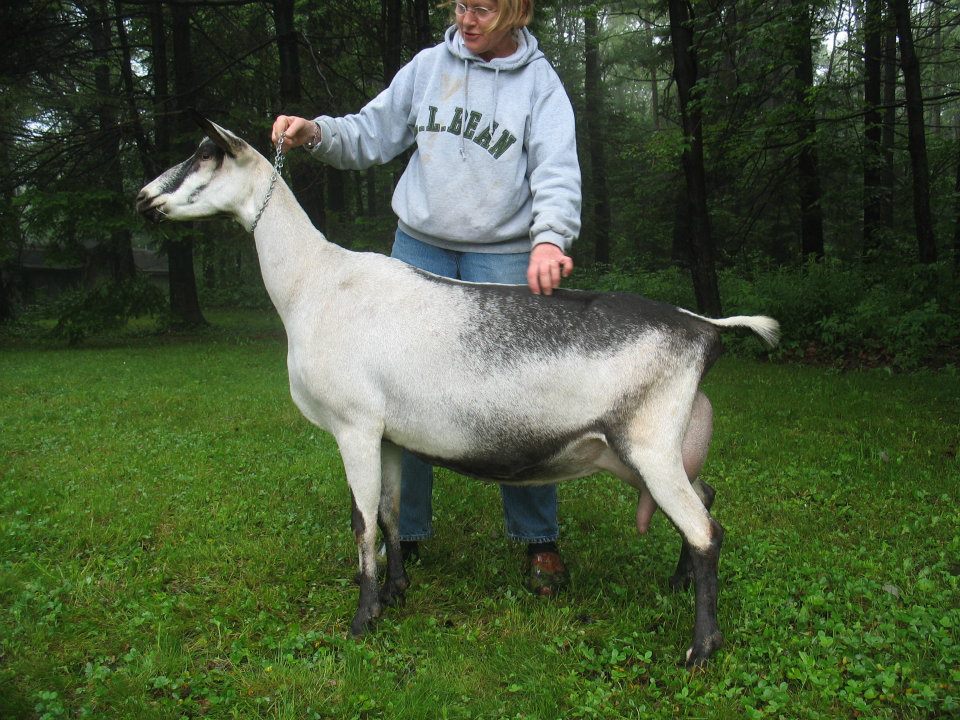 Full sibling, GCH Roeburn's KVLW Muy Caliente 7*M 05-04 EEEE 91 (click for her page on the Roeburn's Website) Photo courtesy of Cathy Mabie/Roeburn's Alpinesis a productive and very well put together doe as well. Her production speaks for itself as well as her linear scores. She did lose a half of her udder after a few years due to mastitis, but she has more than proven herself in production and as a brood doe before then.
GCH Roeburn's Legacy +*B is an elite sire in the 88th percentile, August 2017.  Cou clair
He has 2 SG. 1 GCH, 2 CH offspring. His PTA's for milk, fat, and protein are quite high with a 69% reliability. He has 20 daughters on test in 4 herds, averaging 2.45 lactations, and are producing a mean of 3211lbs milk, 105lbs fat, and 100lbs protein! His daughters have type, too. 18 daughters have been appraisd a total of 31 times, with an average final score of 87.4.
Dam: SGCH Roeburn's BR Rose of Sharon 6*M 05-03 EEEE 92 – A powerful doe with most lactations in the high 2,000lb-mid-3000lb range. She averages 9.3lbs per day on test. She consistently has high appraisal scores, and has may accomplished daughters and sons.
DD: GCH Roeburn's KVF Rose Petal 5*M 05-03 92 EEEE – Another long lived doe with strong mid-2000lb lactations.
DS: SG Roeburn's Gatwick Brutus  **B  02-03 VVE 88 **ELITE** 2 SGCH offspring, 7 SG offspring. D/Avg 3295lbs, 114lbs fat, 88lbs protein!!
DSD: GCH Roeburn's AB Portia 4*M 05-03 VEEE 90
DDD: GCH Roeburn's AB Petra 4*M 06-03 VEEE 89
DDS: SG Kickapoo-Valley Cal Fritz ++B 02-03 AVV 79 D/Avg 2801lbs
Sire: Kickapoo-Valley Lord Whimsey ++*B 03-02 EEE 91 D/Avg 2776lbs milk 91lbs fat, 78lbs prot. He has 1 SG offspring, 6 GCH offspirng, and 3 CH offspring.
SD: GCH Kickapoo-Valley Saga Whimsay 2*M 06-06 EEEE 92 Nationals JGCH 2006
SS: Hoach's Lyric Liason ++*B 01-03 +E+ 82 D/Avg 2401lbs milk, 81lbs fat, 71lbs prot
SDD: Kickapoo-Valley Abner Sashay 1*M 04-06 VEEV 89
SDS:  Pleasant-Grove Super Saga ++*B 05-04 VEE 90 – a very famous sire with 3 SGCH offspring, 7 GCH offspring, and 5 CH offspring. He was also a 4x Premier Sire.
SSD: GCH Hoach's SRS Lyric 4*M
SSS:  Willow-Run LA Armand ++*B D/Avg 2580lbs milk, 82lbs fat, 76lbs prot.