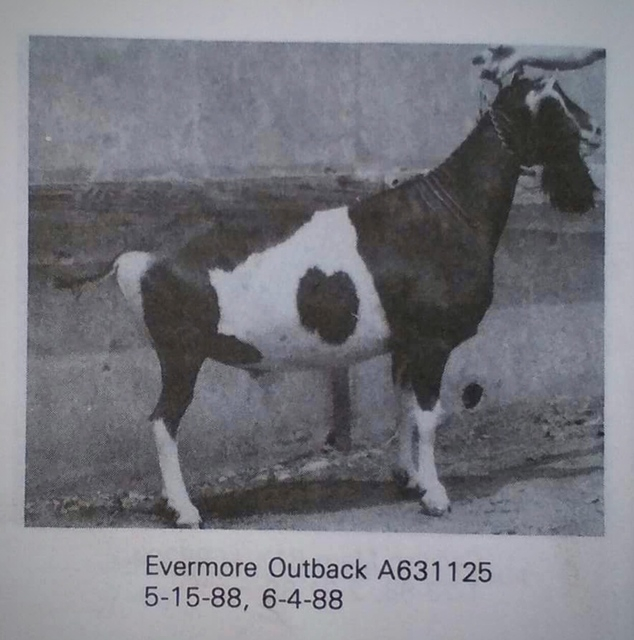 Picture credit Ann Gerard – photo from 1988 ADGA show publication.
Outback is a Polled buck who impressed me with his daughter's production. He has 1 SG daughter, 4 GCH offspring, and 2 CH offspring.
His D/Avg is 3064lbs milk, 112lbs fat, and 82lbs protein!
PICTURE 1   PICTURE 2  – CH Bayview Lindsay 5*M 06-11 +EEV 87  399DIM 2800#M 2.3%F 2.7%P
PICTURE – Bayview Down Under 6*M 03-01 AVV+ 80; 290DIM 3170#M 3.6%F 3.0%P
PICTURE – CH Bayview Kaitlyn 04-11 VEVE 90
These pictures are hosted on Facebook a part of the "Dairy Goat Pedigree Chat" group. If you cannot access them, consider joining this wonderful resource! 🙂 
Dam: Evermore Australia 1*M – On test she only has 94DIM and 1180lbs, which doesn't sound like much until you realize that is an average of 12.5lbs per day on test, which is actually quite respectable.
DS: Chateau DeVille's Verstraete ++*B  D/Avg 2478 – a productive buck of the times, he had two CH offspring and his daughters averaged 2478lbs milk, 87lbs fat, 69lbs protein. His dam was the famous Snow bird.
DD: Evermore New Zealand
DSD: GCH Wa-Shaw-Me Snow Bird 1*M  04-03 VEEE 90 – I still notice people talk about this doe, born in 1976. She still lives on in a lot of people's minds, for sure. Another picture HERE. She was Nationals GCH in 1979 and 1980, and RGCH in 1981. She averaged 9.6lbs per day on official test, with lactations close to 4,000.
Sire: Sunshine Robelta's Rommel ++*B (CLICK HERE for picture of his dam, Robelta!) D/avg 2550lbs milk, 87lbs fat, 76lbs prot. He sired 1 SGCH daughter, 4 SG offspring, 16 GCH offspring, and 2 CH offspring.
SD: GCH Diamond Sunshine Robelta 3*M
SS: Sartyr Kingpin ++*B 03-07 AEE 85