FOR SALE, 2020
Can be offered any time.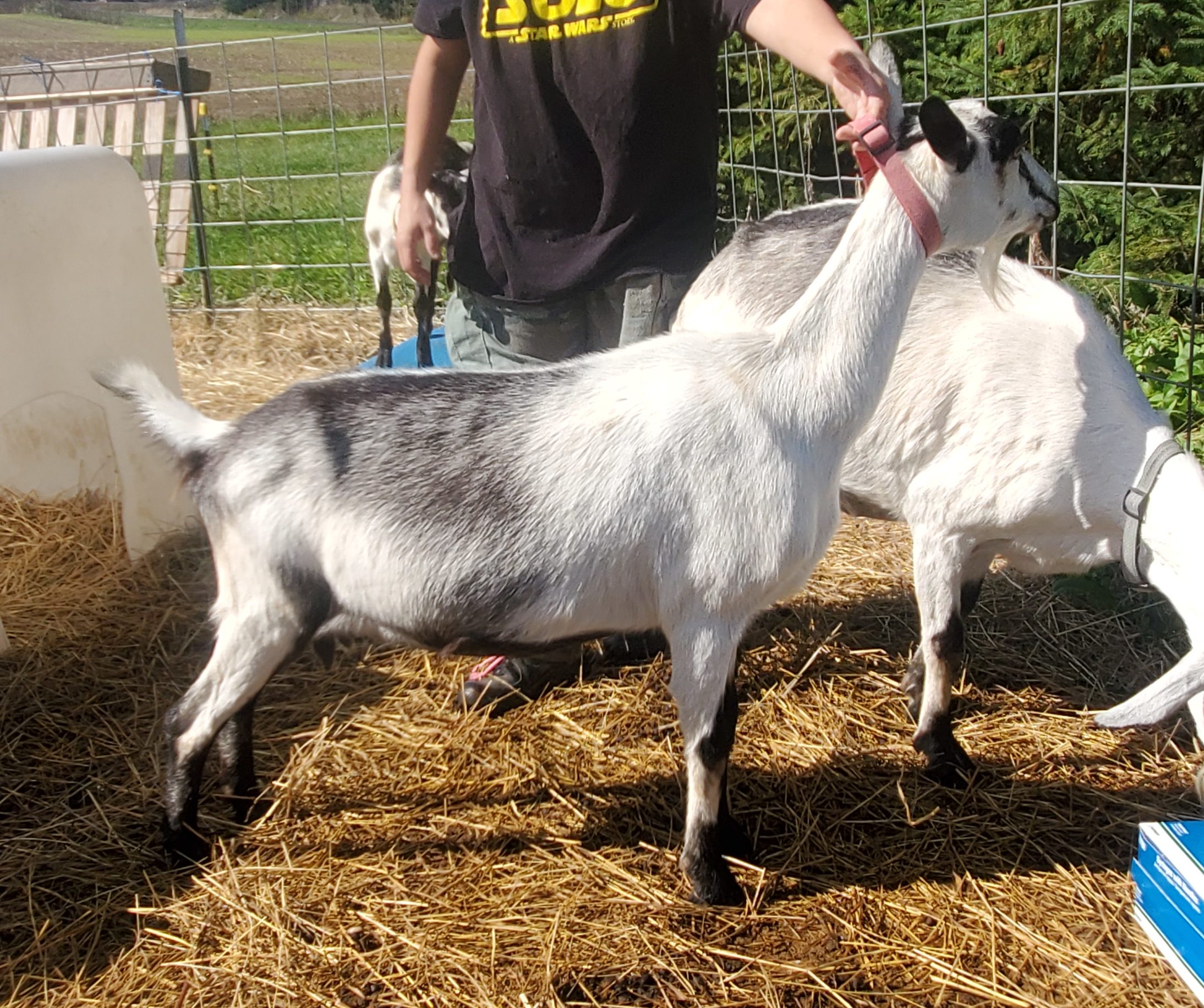 Barn name: MJ
Reg#: A1953705
DOB: 4/12/17
Book: Purebred
Color: Cou Blanc
Casein: F/F
** DNA ON FILE ** (Individual)
Part of a purchase of 4 animals along with Heather/Adrian Quick of Quarter – Mile Farms. They retained ownership of this does' dam (Regel Katan Farm Monarch), a half sister, and an intact buck. MJ has a decent pedigree and despite these animals coming to us in average body condition, they have some potential as brood animals. While I don't forsee MJ sticking around 'for the long haul' unless she really impresses with production, she will be a good brood doe to help me increase my PB numbers and retain some daughters with my herd name to work with. She does have a slightly undershot jaw so no bucklings will be available.
Linear Appraisal History
Has not been appraised yet. Hoping first appraisal as a 3 year old in 2020.
DHIR
Yr     Age    DIM   #M     %F   #F   %P   #P  Peak#
She has not been on test yet. First lactation on test will be as a 3 yo fresh in 2020.
Freshenings:
She has no registered offspring but is known to have at least kidded in 2019.
2020 – Kidded 3/16/20 single doeling sired by Weizenbock. "Pale Ale"
Breeding plans:
---
2019 – Acquired when a local small herd sold the group to QMF and myself. Total purchase included MJ's dam, 2019 half sister, and an intact buck. The buck was mostly purchased to help the previous owner sell out fully in one go, rather than having to try to piecemeal them out. When acquired, animals lacked some condition and had parasitism so after a few weeks of TLC and our management, these girls have really changed already so we're hopeful they'll be a good investment.  MJ's dam, Regel Katan Farm Monarch is a promising doe with a nice pedigree, who we are looking forward to official milk testing and appraisal. Monarch is afflicted with cosmetically unattractive but largely inconsequential follicular cysts, which are essentially ingrown hairs. Hoping with TLC and rupturing cysts as possible will help clear her skin and if not, it is simply an unsightly disease, not a contagious or painful one. MJ's half sister is Segula Farms Noreen, sired by the buck also purchased, Good Ole Days Courage Israel.
2020 –
---