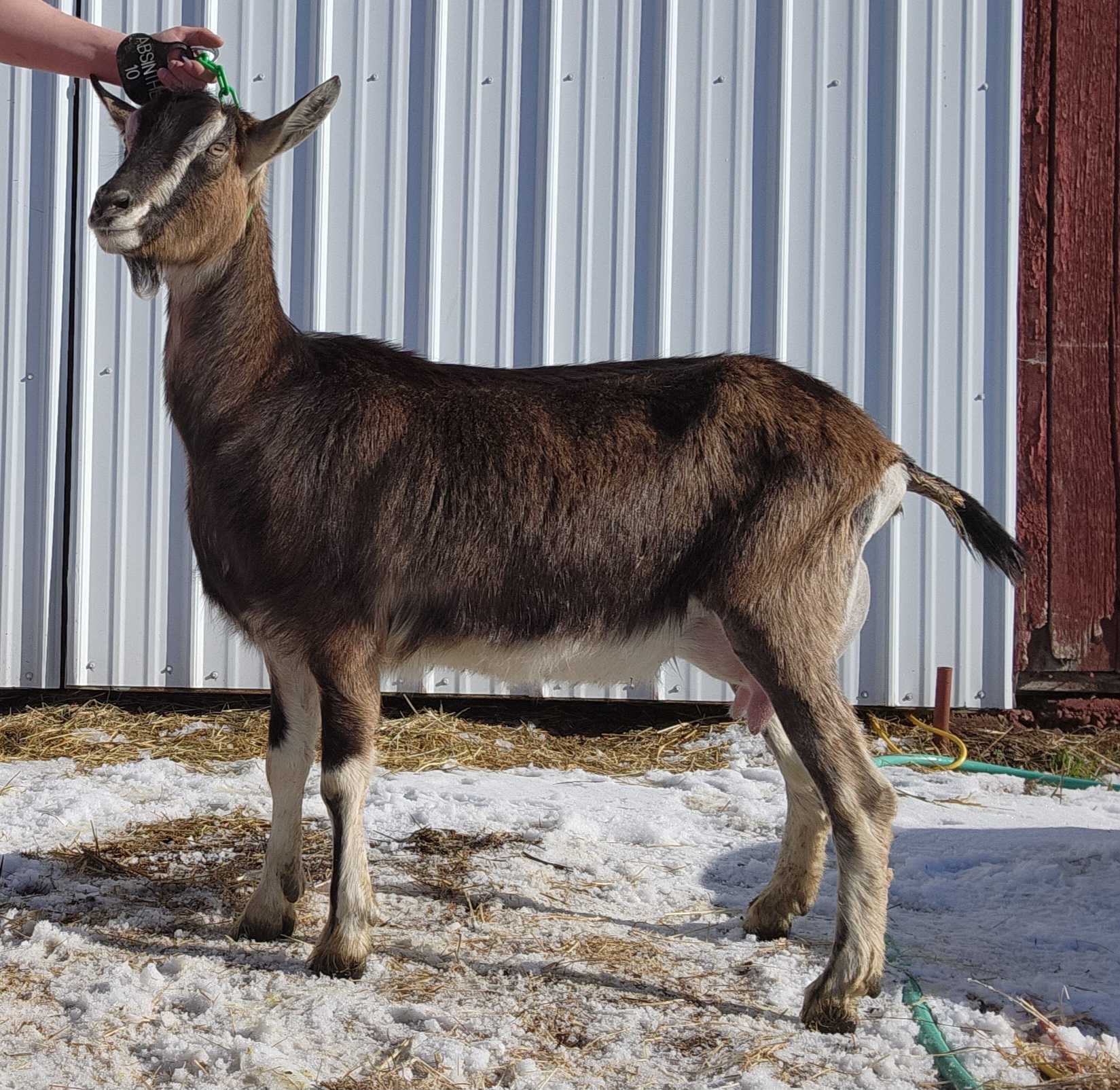 Barn name: Abby
Reg#: AA2212100
DOB: 1/23/22
Book: American
Color: Chamoisee with cream and black trim
Casein: F/01
** DNA on file, Parentage verified  ** 
Linear Appraisal History
2023  GGGV 84 @1yo
DHIR
Intended to be on official test in 2023
Freshenings:
Kidded 3/15/2023 with B/D twins
2023/2024 Breeding plans:
LC: Caprice Acres SSO Vladimir G83
A plain jane chamoisee – my favorite!  While flash has been fun the last few years (broken patterns and fun colors are relatively new to me), color itself is meaningless. What's flashy about Abby is her depth of pedigree – consistently high LA scores, high production, famous names, top ten, national show performers… While my lack of a fancy posed picture doesn't do her justice, I'm confident she's one to watch.
Dam: SG Caprice Acres Glitterati 2*M EX91. "Syd" is one of my foundation does and one of my first AI successes herself. Her sire, SGCH Cherry Glen Password Gentry ++*B was EX90, sired 2 different National Champion daughters (in 2 breeds – alpine and experimental – and the experimental won multiple years). She has settled AI routinely, is a steady producer and you can't hardly tell that she is a 9 year old 8th lactation doe as she just keeps cruisin'. I honestly think this year she looks as good as ever.
Sire: SG Antiquity SOS Drambuie +*B *ELITE* 01–3 VEV 88. A son of the infamous Sasin and out of an EX90 dam who has multiple lactations 3000-4000lbs, including one top ten. His daughters average 3227#M 120#F 95#P.
Like her maternal half sister SG Caprice Acres CGRH Panache 3*M from years ago, she is a bit squirrely in personality as a kid. Funny how some of Syd's kids start this way but they are all still easy to catch and never any issues as FF and become as friendly as any – but good luck trying to reach for her as she thinks you're attempting to eat her! Then the next second she's in your pocket looking for treats – as long as it's on her terms, she's quite friendly. Weird things. This girl is long and level, and I'm very excited about her paternal pedigree complementing her maternal side.