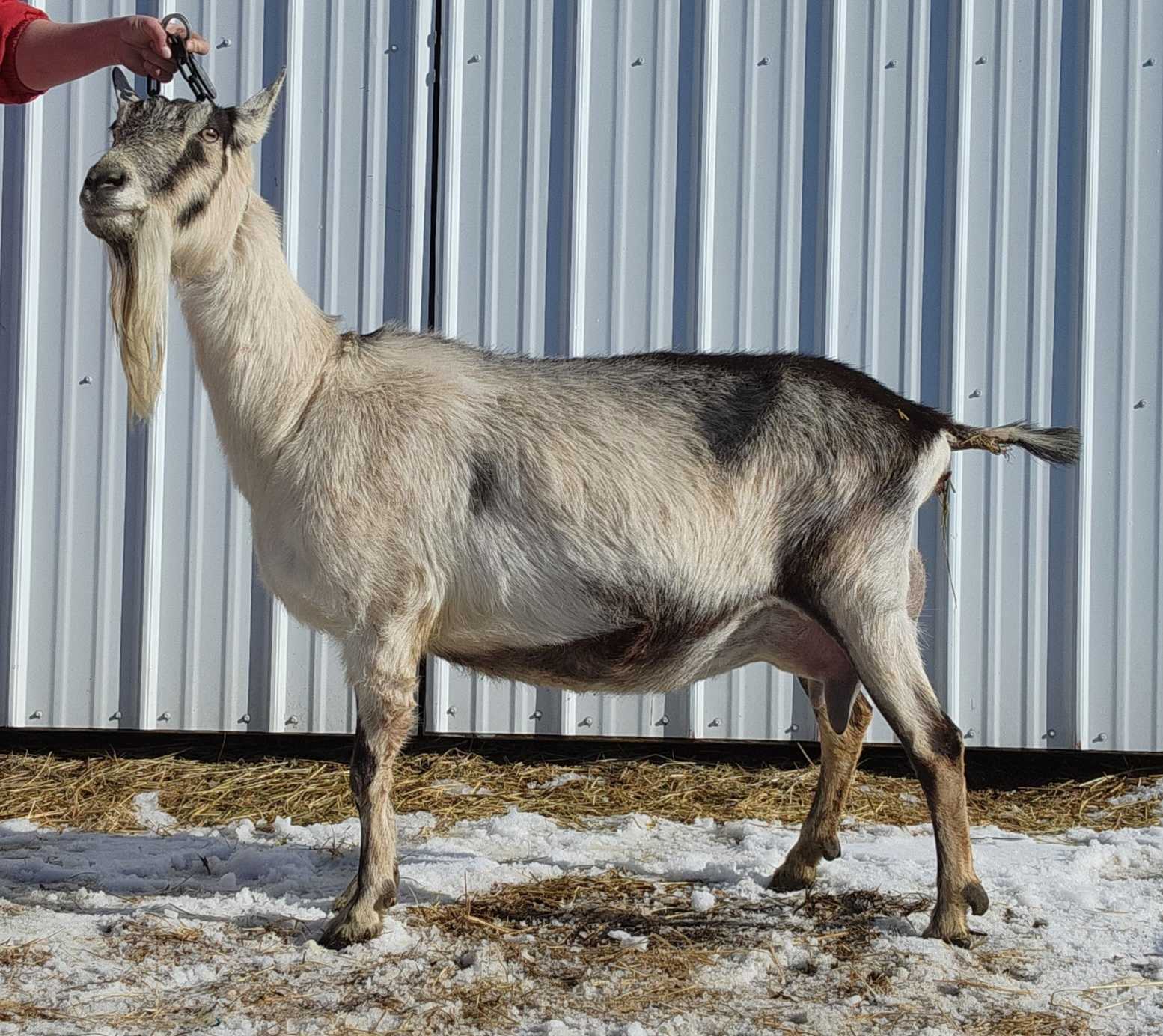 Barn name: Sydney, Syd
Reg#: AA1628579
DOB: 3/2/13
Book: American
Color: Cou Clair
Casein: E/01
** DNA ON FILE ** (Individual)

Linear Appraisal History
2013 YS: +EV overall V
2014 01-03 ++++ 84
2015 – did not appraise. She was open, and our host herd opted to cancel.
2016 – 03-03 VVVV 88 – 3 year old, 2nd fresh. E's in back and rump
2017 – 04-06 VVEE 90 – 4 year old, 3rd fresh. E's in Head, Back, and Rump
2018 – 05-04 EEVE 91  – PERMANENT SCORE! 5 year old, 4th fresh – E's in head, rump, and udder texture
2019 – 06-06 VEVE 90 – E's in Head, Back, and Rump.
2022 – EEEV 91, E's in shoulder assembly, front legs, rear legs, and rump. Commended on her stellar general appearance. Not bad for a 9yo 8th lact!
DHIR
Yr      Age   DIM   #M      %F   #F   %P   #P    Peak#
'14     1-02    245   1340    2.8   38   2.8   38    6.4
'16     2-10    305   2050      3    61   2.8   58     8
'17     4-00   256   2382    2.8   66   2.6   63    11.5
'18     5-00   245   2500    2.9   72   2.6   64    15.3
'19     6-00   203   1550      2.1    32   2.3    35    8.1     – See 2019 notes
'20 –  See 2020 notes, data exists but messed up
'21 –    8yo    250   2730    3.0   83   2.5    69.    12.2
Freshenings:
5/3/14 – 1B 1D. Both sold. Doe registered as Caprice Acres Glitz N Glam
OPEN 2015
1/2/16 – 1D. Retained – SG Caprice Acres CGRH Panache 3*M 02-07 VVVV 87
3/15/17 – 3B. 2 sold as wethers, 1 sold as intact buckling. (Caprice Acres Doppelbock *B)
3/15/18 – 2B 2D. Retained Caprice Acres Literati, and my good friends at QMF have Caprice Acres Preciosa. Both bucklings sold as breeding bucks, Caprice Acres MC *B and Caprice Acres Hefeweizen *B. Sold Literati as a FF in 2019. Preciosa still in the QMF herd.
3/21/19 – 2D 1B.  One doe kid went to dairy, one local buyer (Legendary Silver). Buck Morpheus also went to breeding home.
1/31/20 – 1D 1B. Doe will be retained, buck may be as well. Doe: Caprice Acres Wahoo Flair. Buck – Caprice Acres Wahoo Huzzah *B
5/15/ 2021 – 1B 1 D – sired by Brisbane. Polled doe sold, buck kid with extra teat wethered/butchered.
1/23/22 – 1B 1D –  sired by Antiquity SOS Drambuie ++*B **ELITE** ! Doe kid retained, buck kid available.
Breeding plans:
2022: pending
AI: Pending
Live: Pending
---
2015 – She managed to injure her left fore foot/hoof at some point during her dry year – evidenced by odd hoof growth on one claw and often 'holding' that leg a bit differently . I'm just now (Aug 2016) starting to be able to trim it back to a normal shape, but the leg doesn't 'match' the other.
2017 – this is finally her year! She is producing extremely well this year. I knew she had potential, but her situation has never before allowed her to live up to it. She has only been on test as a FF, then took a year off, then had a single in 2016 which resulted in just an average lactation. I knew she could do better. This set of triplets in 2017 finally set her up for success. Looking forward to this year for her. Update Fall 2017: She has appraised EX90!
2018– Just when I thought she did great in 2017, she gives quads in 2018 and hits some very impressive numbers on her first two tests – the 2nd test day a whopping 15.3#! Amazing what maturity and a large number of kids can do for milk production! 🙂 UPDATE: She has achieved her permanent score of EX91!  
2019 – The herd has moved to the amazing care at QMF farm, and a few kinks had to be worked out in the new dynamic herd with many more does than ever previous. The does freshened very strong but shortly thereafter,  herdwide decreases in production and body condition were seen, which we attributed was due to poor hay quality having only a first cut hay available. We had the quantity, but not the quality needed for peak production. Coupled with a very wet spring and summer, ability to cut new hay to make up the deficit was nearly impossible for a long time. We scrambled to correct and began chaffhaye and alfalfa pellets but the insult came at a critical point in lactation and does across the board from both herds just didn't bounce back.  It's all a learning curve plus a large factor of the growing seasons 2018-2019  – together the two herds are hoping positive changes were made and really hopeful for better luck in hay for 2020! We knew there would be growing pains, so this is just a hiccup. 🙂 "Syd" herself has continued as a good matriarch of the herd otherwise, maintaining her EX status with 06-06 VEVE 90. She is also confirmed bred during our Lap AI event to SG Sodium Oaks SP Wahoo +*B, who should bring some old style winning genetics for both production and show. Very excited to see what we get!
2020/2021 – shows an abbreviated lactation but that she left herd in 2021 under the data for the 2020 lactation? Something funky happened here but I can't recall what it was. She may have been quickly dried to keep chores easier for Heather, too!
2021 – The ole lady has moved with the rest of the herd to the new homestead in Six Lakes, MI! She was the very first doe to kid at the new place, being the latest one due in May and her twins were born unassisted several hours earlier than they should have been (induced labor). The whole herd was in an uproar due to this travesty! 😉 All were gentle to the wet new kiddos but decided it was battle royale among the adults. Per her usual, Syd came into milk steadily and is still my favorite doe to hand milk. So nice to have a familiar, steady creature to work with who demands attention occasionally but mostly just comes and goes without fuss.
2022 – Ole lady still got it. Along with appraising EX91 again, she also produced 2730lb milk at 8th lact 9yo. As I type this she's currently several days away from her 2023 kidding as a 10 year old and looks just as fantastic as ever. She has nothing to prove and at some point she's going to have to retire I guess, but she'll tell me when she's ready.
---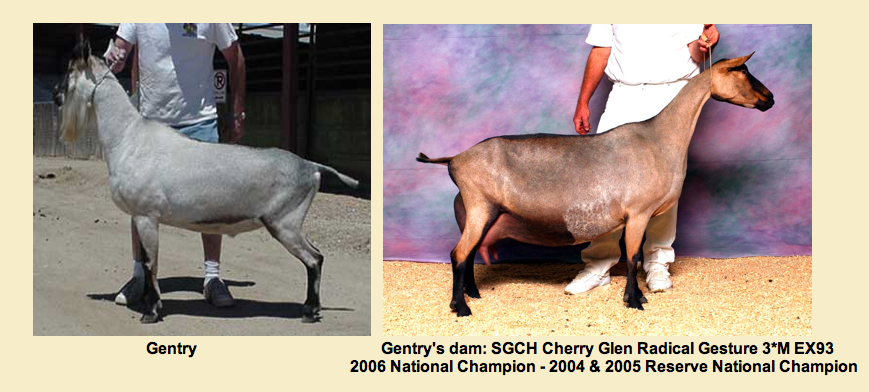 S: SGCH Cherry Glen Password Gentry +*B 01-04 EEV 90. (Click his name for a link to my REFERENCE page to see pics and learn more about him!) Daughters average 2774lbs of milk. PTI 46 128. Has sired 2 national champions! Cherry Glen Gentry Bridget was 2014, 2016, and 2017 Recorded Grade National Champion. Cherry Glen Gentry Granite was the 2016 National Champion Alpine, 1st place/ best udder 5-6 year old milker at 2017 Nationals.
SD: SGCH Cherry Glen Radical Gesture 3*M 07-03 EEEE 93, 3yo lactation was over 4,000lbs. 2006 national GCH, RGCH 2004, 2005, and Nat'l Best Udder '04, '05, '06 – Please find her information on the reference page on the Cherry Glen Website by clicking her name. The Pictures on the Cherry Glen website appear to be broken links.
---