Weizenbock has been sold!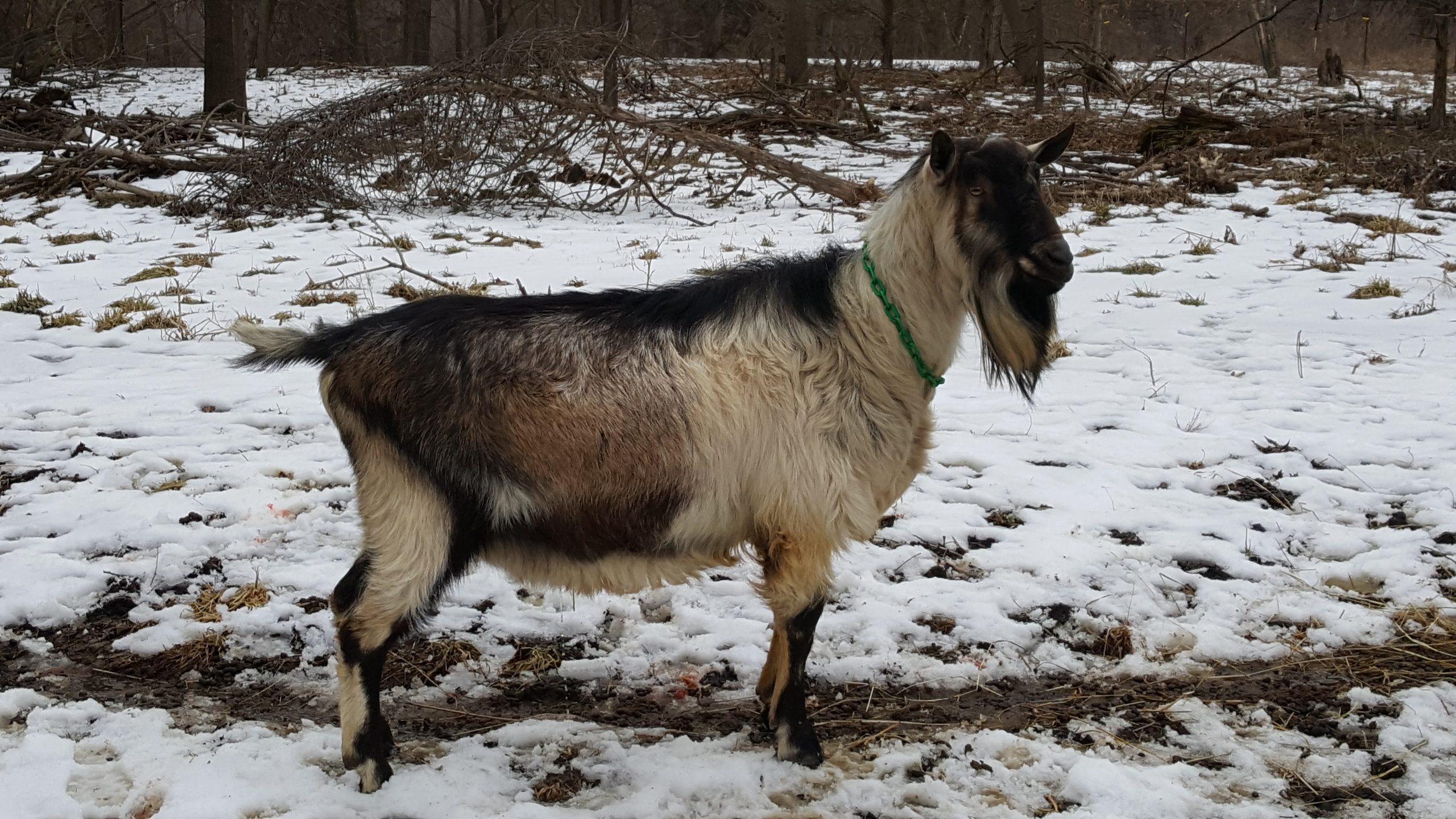 Semen available – 150/5, 200/10 (prefer to not split canes)
Barn Name: Whizzer
Reg#: PA1770348
Breed: Purebred French Alpine
DOB: 3/9/16
Color: Light two-tone chamoise
Casein: E/F
** DNA ON FILE ** (Sire Verified)
** COLLECTION ON FILE **
Linear Appraisal History
2017 01-06: V+V 86
2018 02-04 VEE 87 – E's in Back and Rump
2019 03-06 VVE 88 – E's in head and back
Whizzer is my attempt to bring at some popular show genetics and type, without compromising production. His dam, SG Sunrising RZ Wyvalliea 2*M easily earned her SG status on her first lactation. As a 2 year old she scored EEVE 90. Her milk test data is slightly skewed negatively due to being milked 1x per day or dried up after kids are weaned and if she is not on the show string. Quality of life for the herd owner is important and doesn't always include milking. 🙂
His full sister from 2015, Sunrising Charmer Wyvee, was 3rd place Jr yearling at 2016 ADGA Nationals. His littermate sister, Sunrising Charmer Wyvee Too was a Coloroma sale kid at 2016 nationals. See her picture for the sale HERE (link to facebook picture)
Weizenbock's sire, Charmer, was a 2x Premier Sire in 2014 and 2016.
Whizzer has several kids out there in other herds. I'd love to keep more if I could, but must keep the herd small. That being said, I DID keep one 2017 daughter, Caprice Acres Irish Red, who I think is very promising.
Daughters (Many are QMF does):
---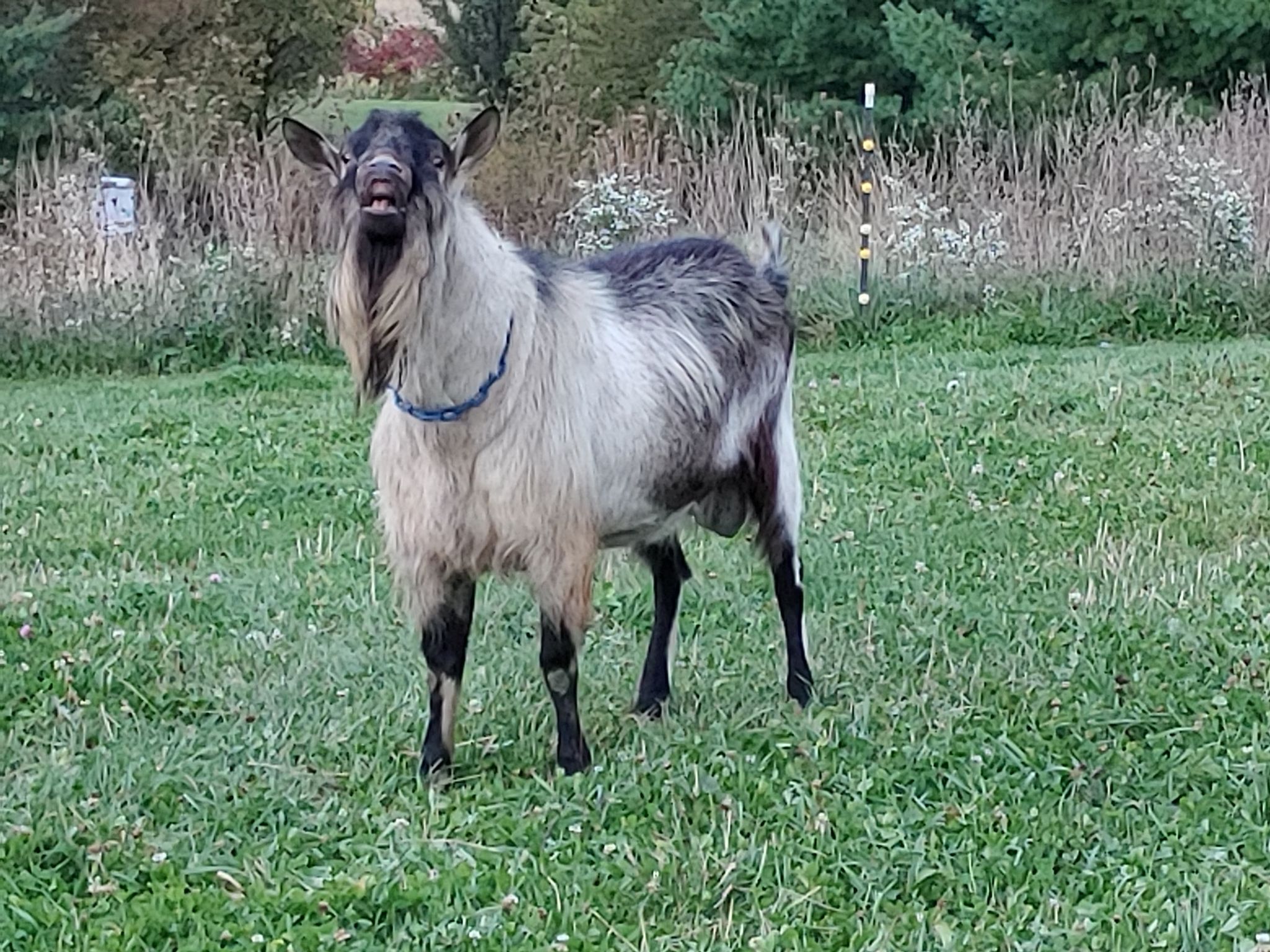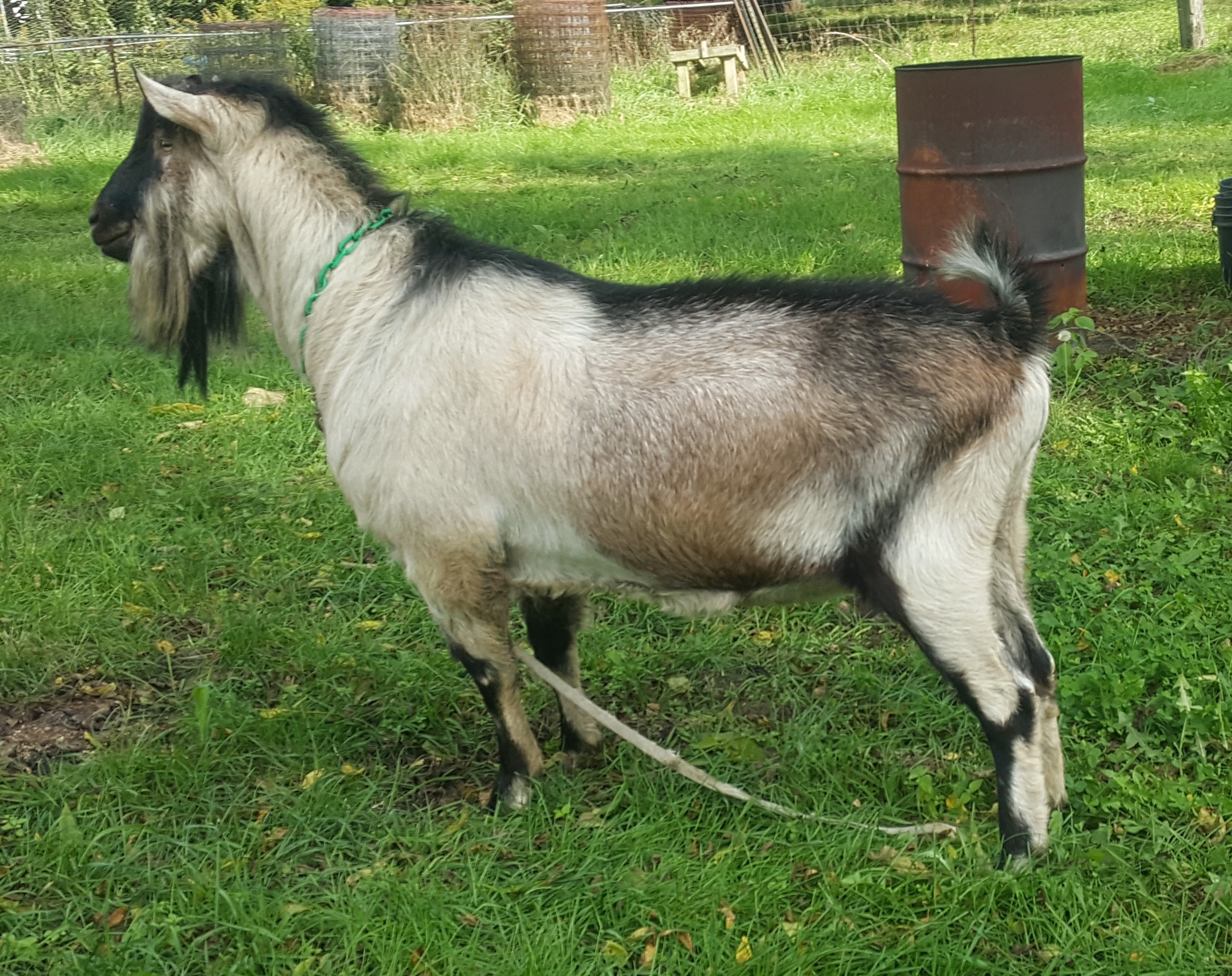 Fall 2018, 2 years old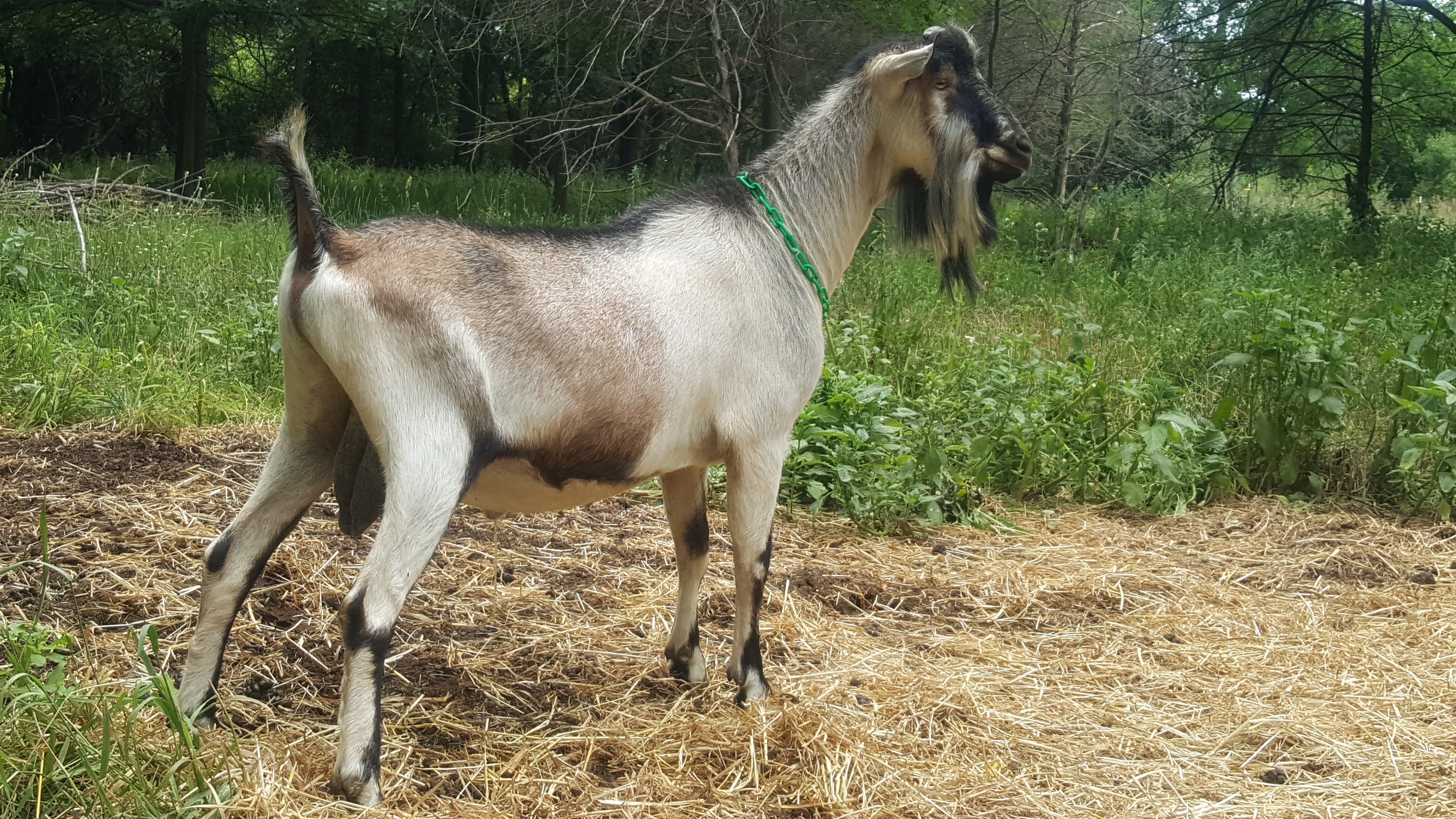 2yrs old, 2018

Sept 3 2017, 1 year old – Candid linear appraisal picture

5/22/18 – 2 yo pre-clip. I like when they're fuzzy, but it IS harder to see their conformation. .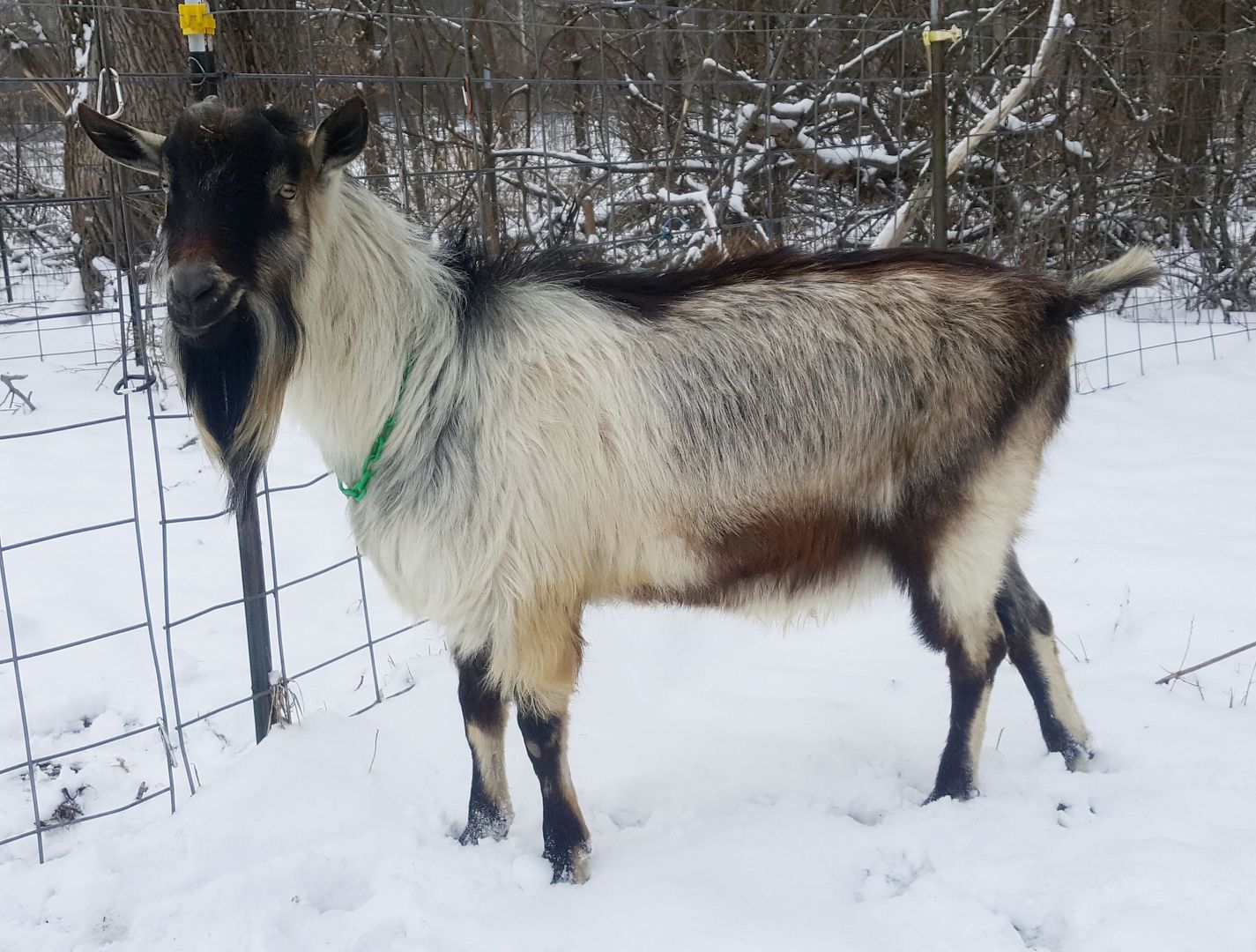 Mar 9 2018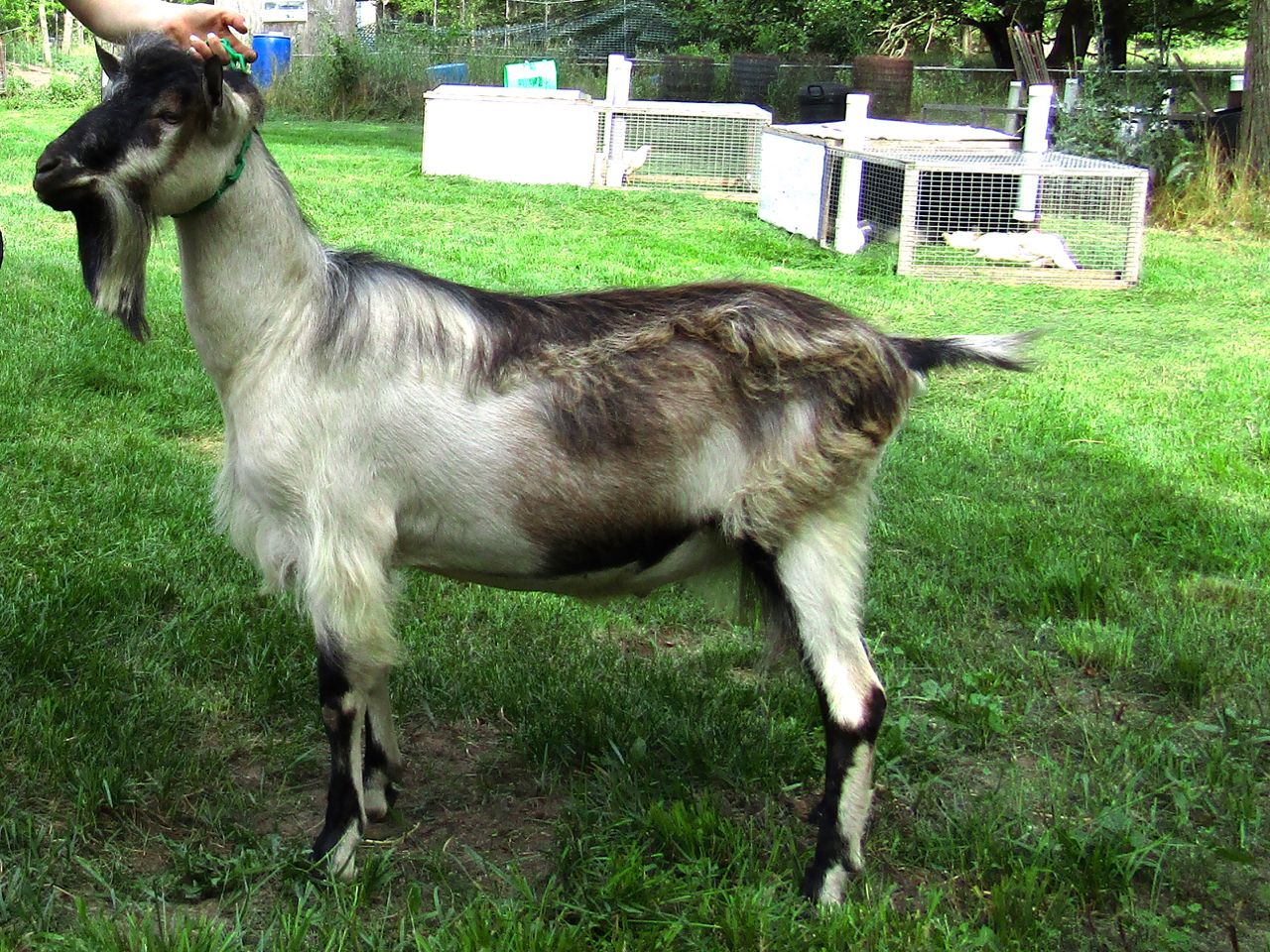 7/22/17, 1yr 4 mon
Sire : GCH Windrush Farms IRS Charmer +*B

Whizzer's sire, Charmer
Charmer was owned by Sunrise Farm in NC until his death.  Two-time Premier sire (2014, 2016), 4 GCH daughters, 1 CH daughter. He's also a 2nd generation premier sire, with his father Sheriff also having this honor.
As of early 2019, Charmer has 33 dau on test, avg # of lactations on test is 1.82,  and they have a respectable average of 2382lbs, 89lbs fat (3.7%) , 73lbs prot (3.1%).  Avg LA score out of 73 appraisals: 85.4. He has 1 SGCH offspring,  7 GCH offspring, and 5 CH offspring.
Dam: SG Sunrising RZ Wyvallia 2*M
01-03 VV+V 86 – E's in back, rump, and front legs
02-01 EEVE 90 – E's in rump and udder texture
Her yearling FF linear score is quite respectable. She easily earned her SG as a yearling, and she looks to have a productive career ahead of her if you consider her dam's production and her sire's influence. Will be interesting to see the DHIR info as she progresses through the lactation. She placed 7th in class as Jr at ADGA Natl show, shown only once as FF and placed 1st. Her 2 year old lactation was quite impressive, though slowed a bit when she was switched to once a day milking.

2yo 2nd fresh @ 2016 ADGA natls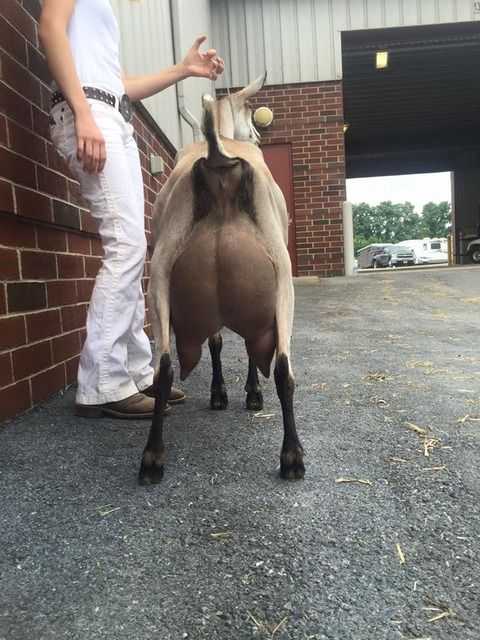 2yo 2nd fresh @ 2016 ADGA natls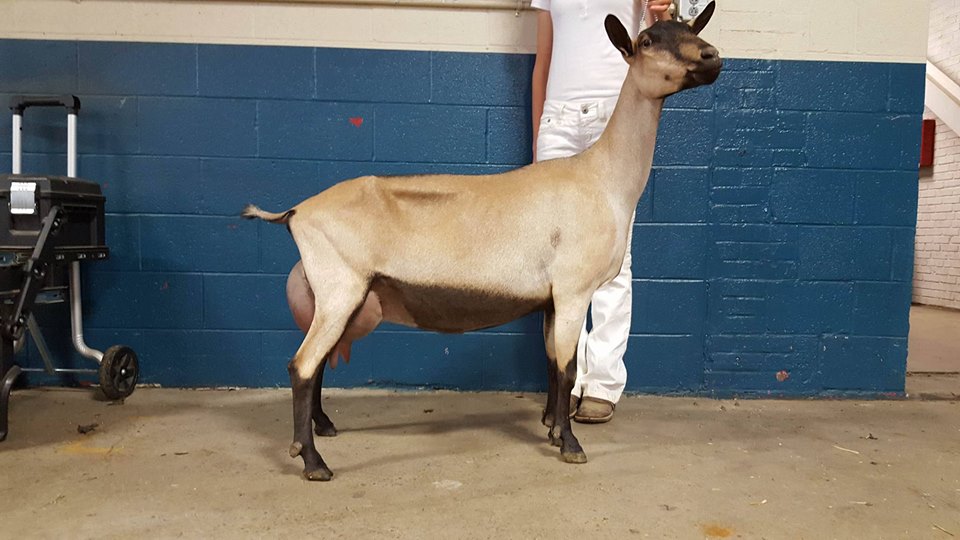 Maternal granddam – GCH Pleasant Grove Long Wanderer 03-02 EEEE 90 @'16 Nationals
Maternal granddam – GCH Pleasant Grove Long Wanderer 03-02 EEEE 90, 2015
Daughters
Between QMF and Caprice Acres, we started having our first Whizzer daughters freshen in 2019!  Will post more pics as they become avail!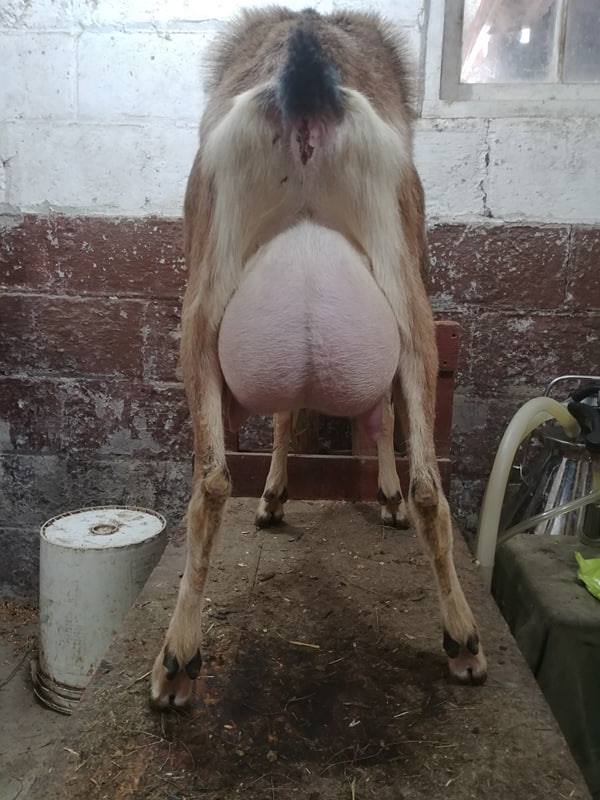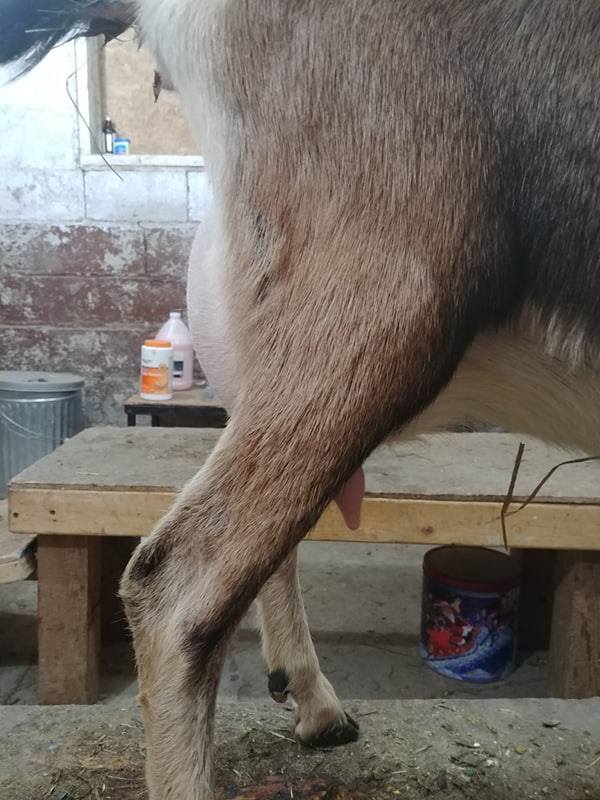 QMF SCW's Precious Chamie – FF 2019 (link to ped). Photo courtesy of Heather Quick at QMF! 🙂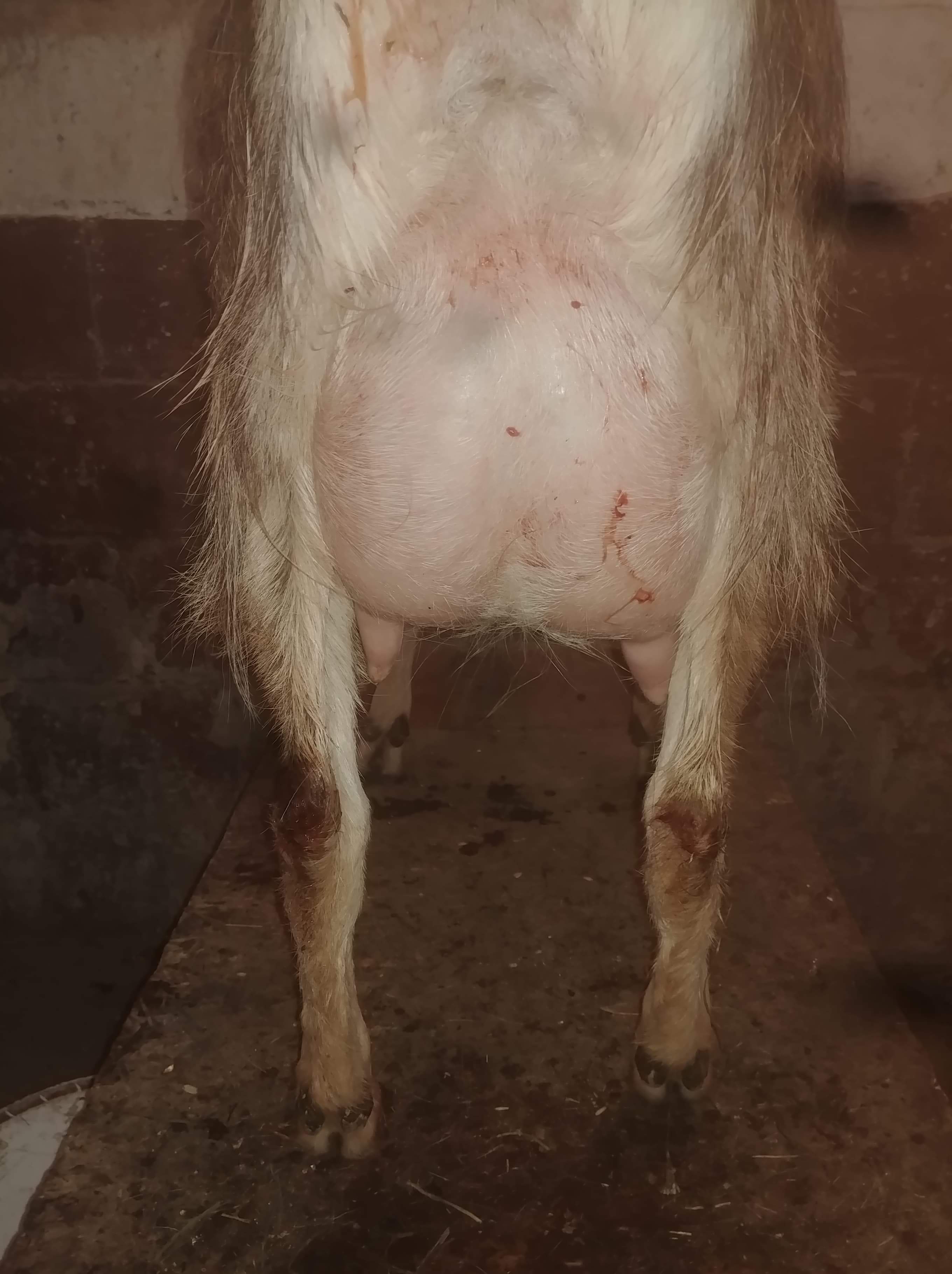 Caprice Acres Literati – A 2018 Glitterati x Weizenbock daughter – link to page/info.Photo courtesy of Heather Quick at QMF! 🙂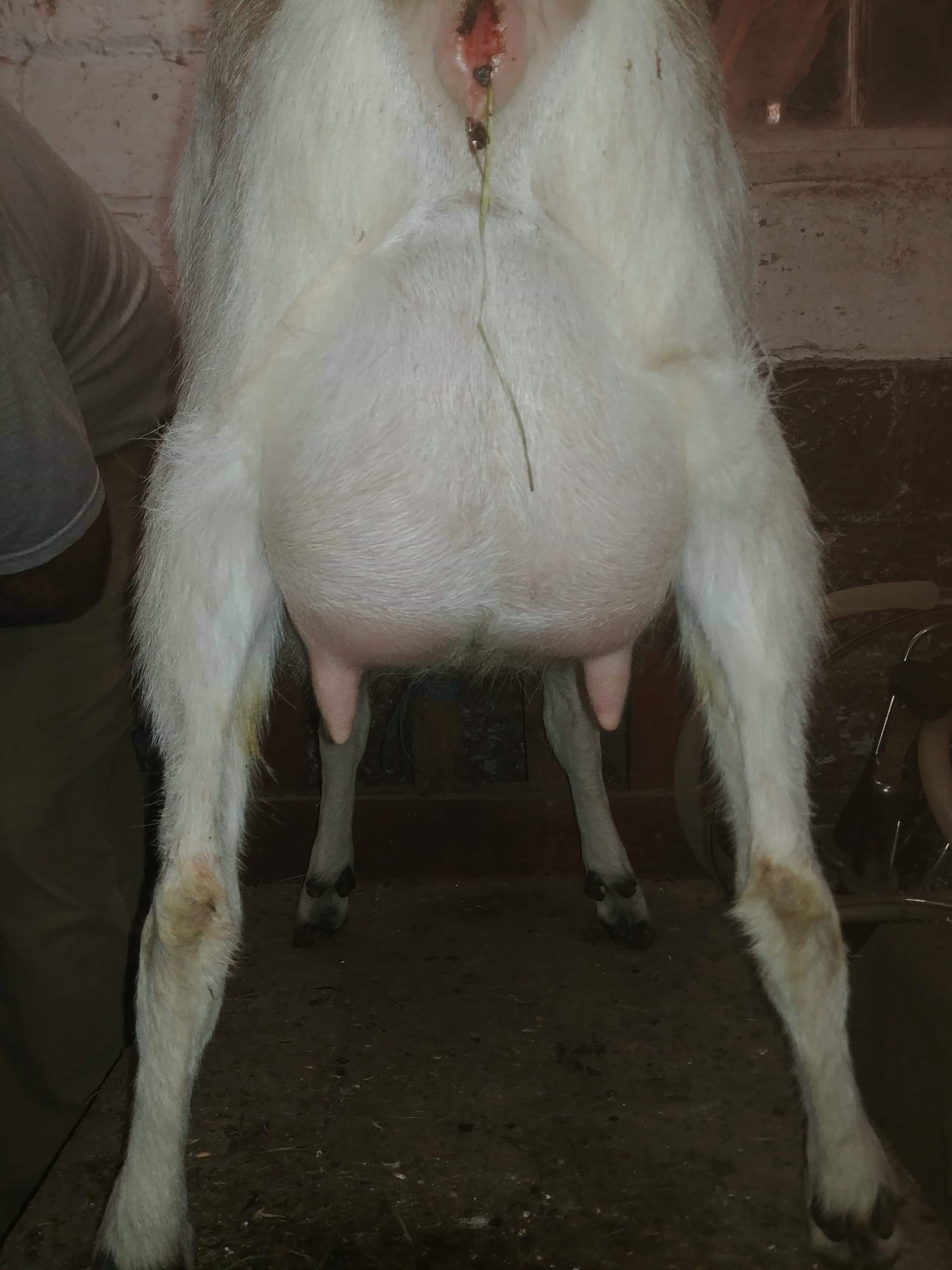 QMF IV's Inquisition – FF 2019 – link to pedigree. Photo courtesy of Heather Quick at QMF! 🙂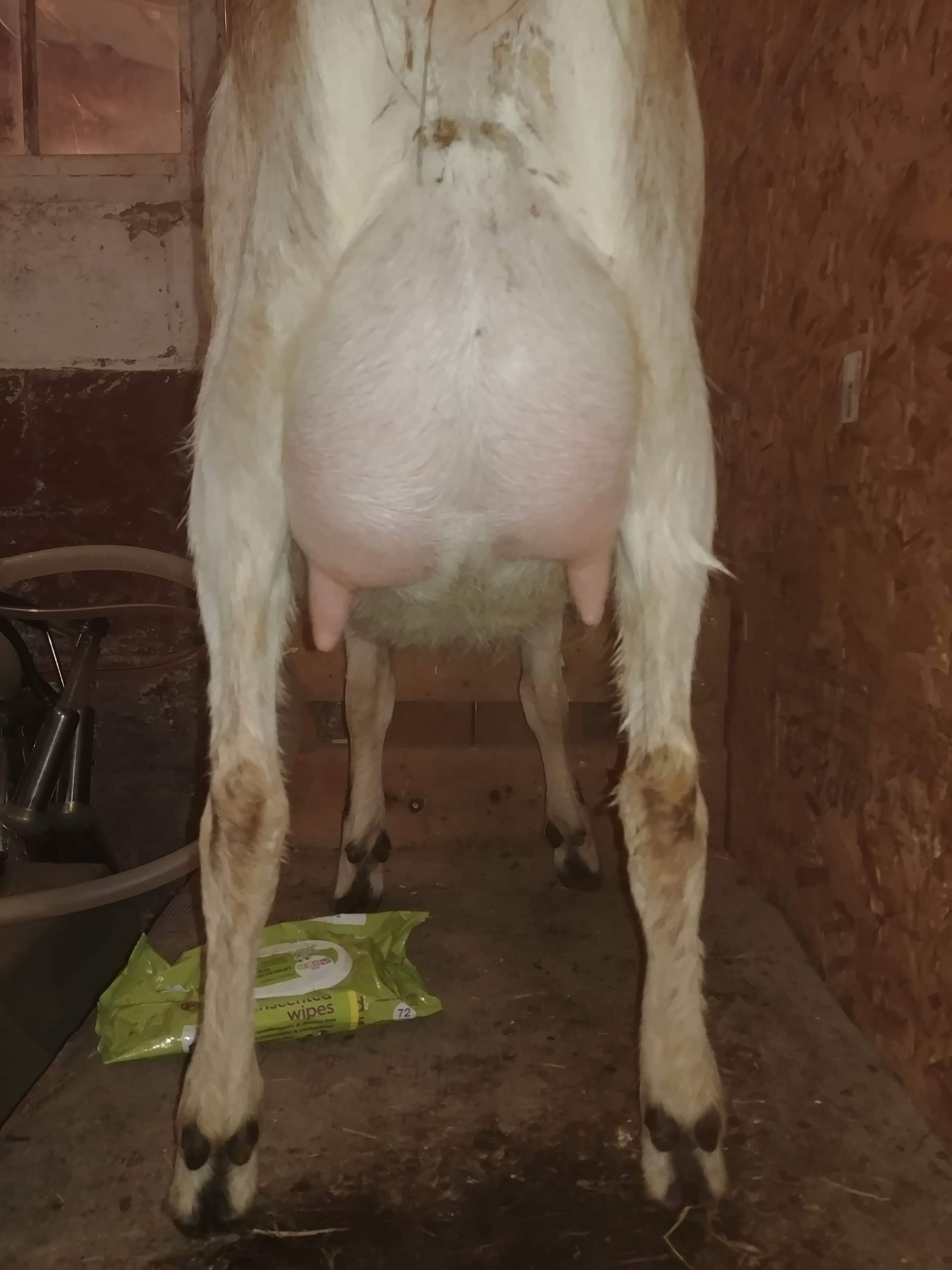 Caprice Acres Preciosa (littermate to Caprice Acres Literati also pictured above)
She has some residual edema in her L half in this picture, but you can see the general shape. Photo courtesy of Heather Quick at QMF! 🙂