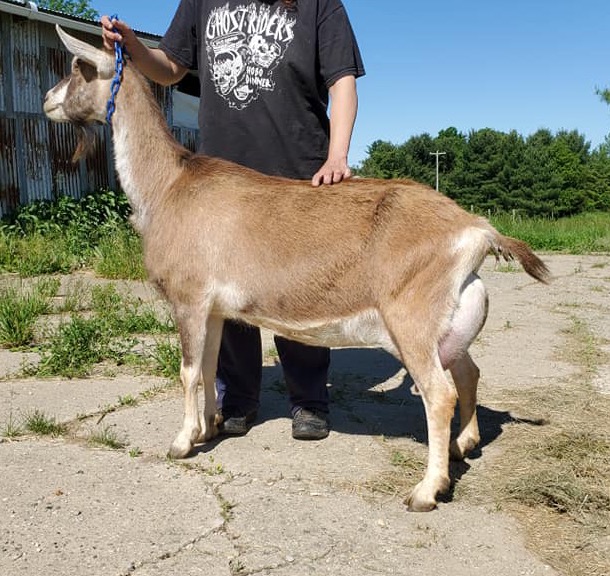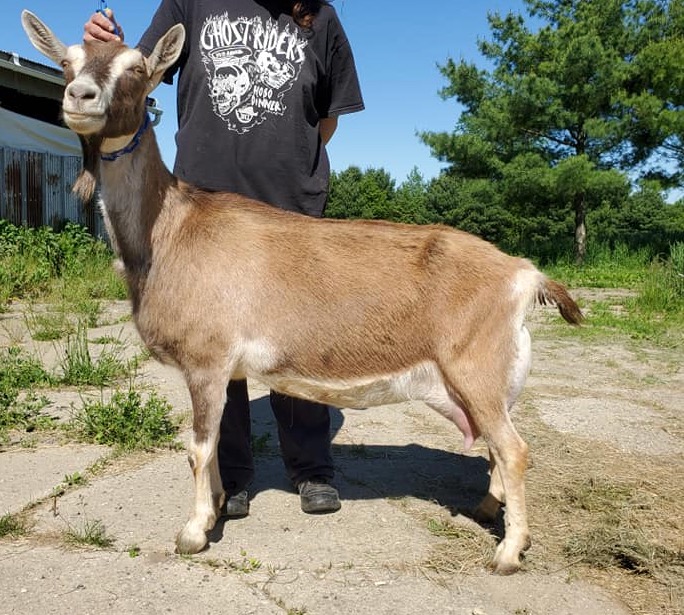 Barn name: Tulip
Reg#: AA1774431
DOB: 3/8/16
Book: American
Color: Dilute/chocolate chamoisee with white swiss marks
Casein: F/F
** DNA ON FILE ** (Parentage verified)
Linear Appraisal History
2020 – 
DHIR
Yr     Age    DIM    #M      %F   #F     %P   #P    Peak#
Has not been on official milk test. Hoping she'll have her first year on test in 2020!
FRESHENINGS:
2017 – open
2018 – open
2019 – 2D 1B  – with previous owner.
Kidded 5/19/20 – 1B 1D – bred to our temporary buck, Good Ole Days Courage Israel who was sold shortly after breeding Tertia. Beautiful chocolate chamoise with white swiss marks doeling was retained by Heather Quick @ Quarter – Mile, named Caprice Acres Queen of Battle. Buckling wethered.
Breeding Plans
AI: SGCH Luiz's Phrosty Phrisbee +*B
03-01 VEE 89
D/avg 3420#M 101#F 84#P
Confirmed pregnant, due 2/22/21
---
2019 – I have not regretted a sale as much as I did the sale of Tertia when she was a kid. She was a successful AI offspring of my favorite doe, Elise, and CH Tempo Aquila Danziger who has an impressive pedigree.  She was mainly sold as I decided to keep a purchased French alpine doeling instead – and turned out I kept the lower quality animal on the basis of paperwork alone. I knew better, but my goal of increasing my number of French alpines was hard to ignore.
I kept in contact with her buyer and when Tertia became available for sale, I snapped up the chance to buy her back and I am so happy I did. Unfortunately the purchase was late in the year and I am really hoping she is not dry again 2020. (she has only kidded once with triplets as a 3 year old in 2019). Good Ole Days Courage Israel and the does purchased the same time as him have tested clean and are out of isolation, so she is housed while she is in isolation in hopes she settles – better late than never!
Please see the BIOSECURITY page for her pre-purchase disease testing. She is negative for CL, CAE, and Johnes and will be re-tested prior to joining the main herd in March (after 3 month isolation).
2020 – Itty bitty titty comittee over here! For such a productive doe, she has the smallest teats I think I've ever encountered. Now, previously she did dam raise so I'm hoping they get a LITTLE bit bigger. Thank goodness for machine milking. However, I do prioritize hand milking size teats so will be selecting sires in the future for better teat size. She takes an increased amount of time to milk simply because her teat cistern volume is so miniscule.
---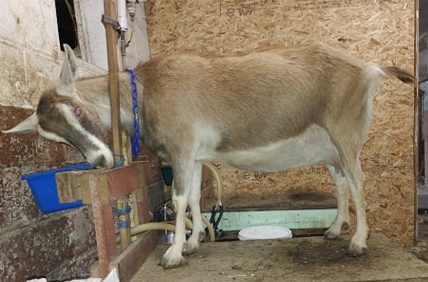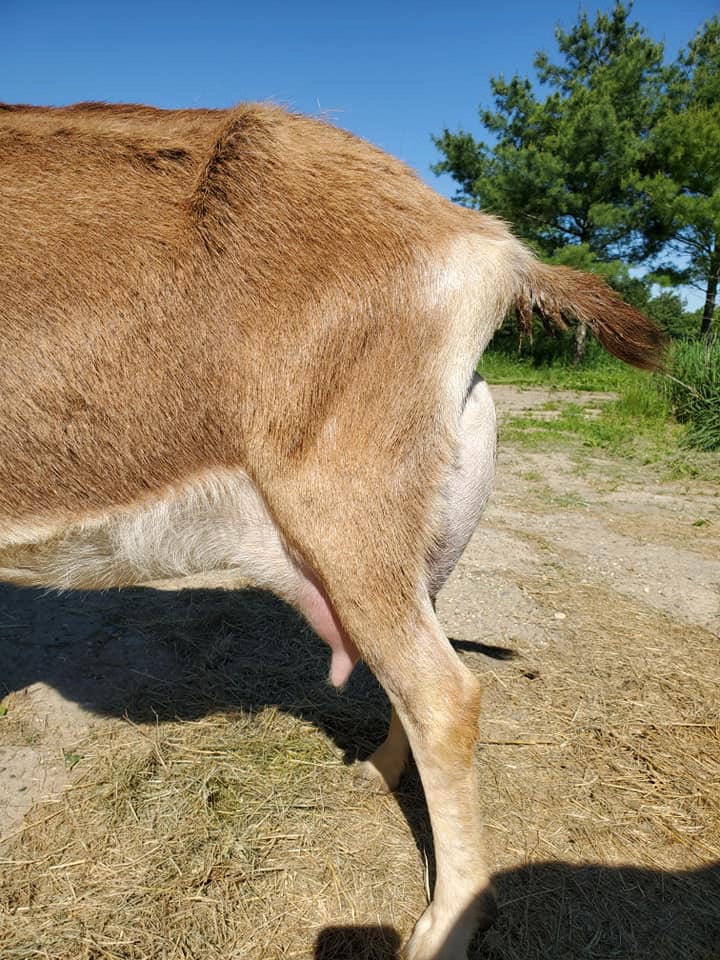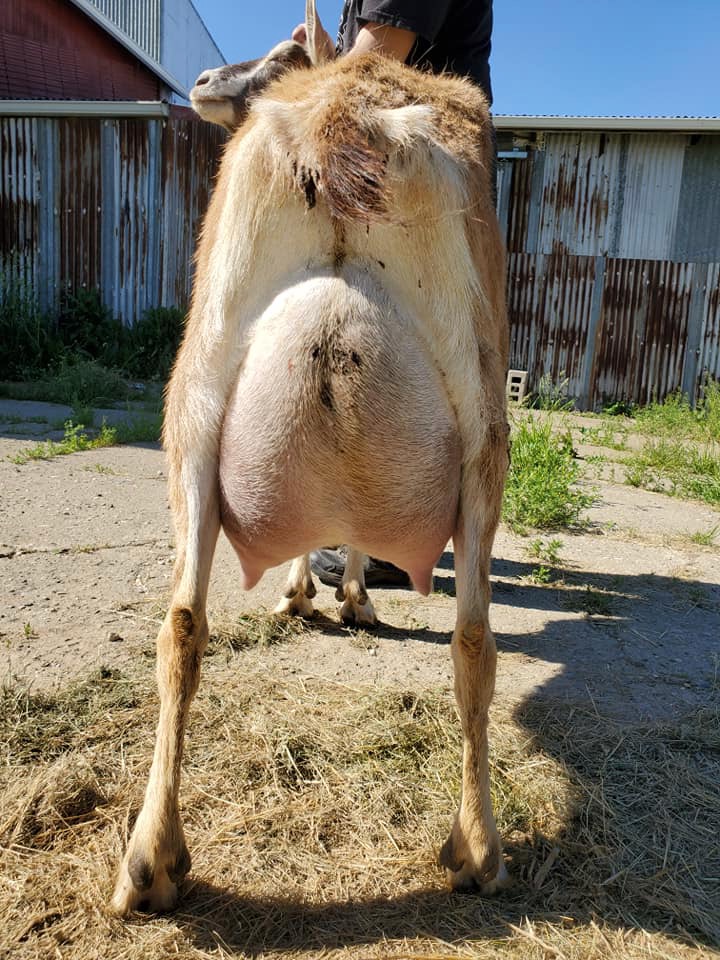 ---
Dam: SG Caprice Acres Elise 2*M EX90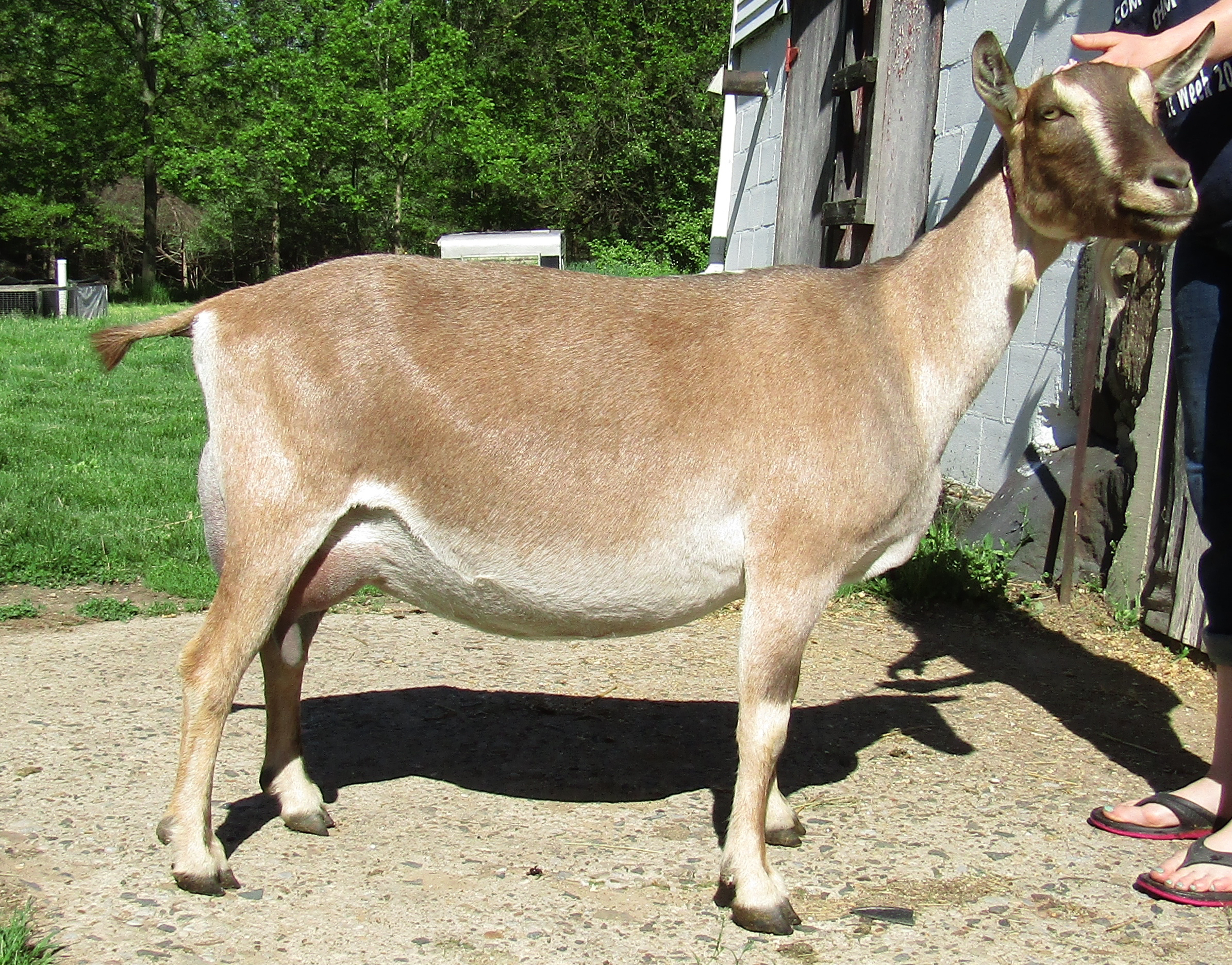 Dam: SG Caprice Acres Elise 2*M EX 90, pictured 5/24/18, 4yo 4th fresh, ~2mon in milk.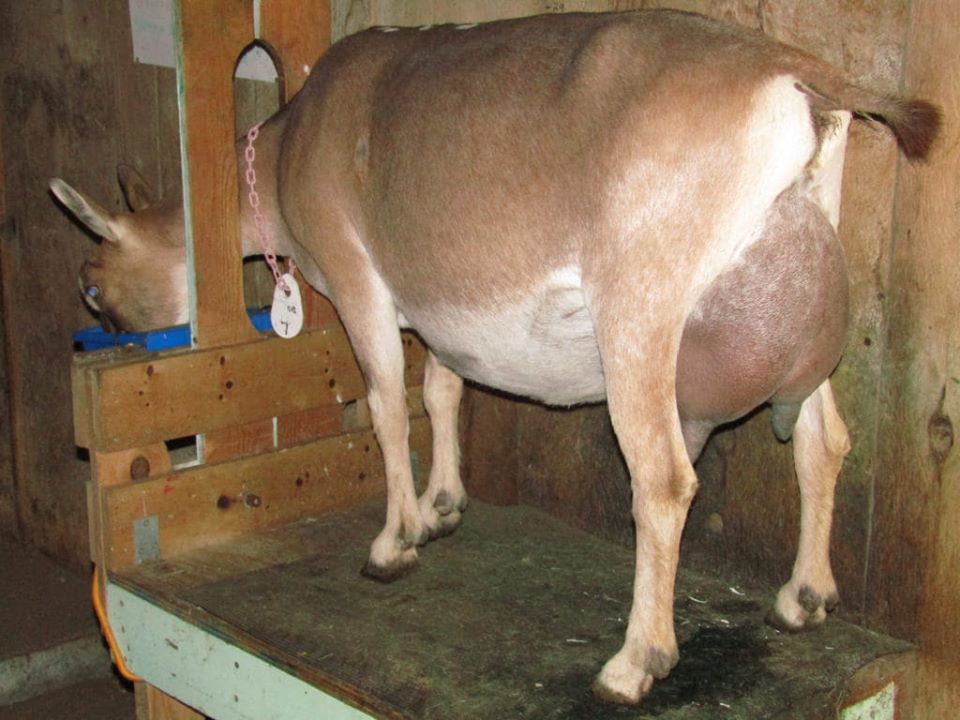 Dam:  SG Caprice Acres Elise 2*M EX90, pictured 5/24/18, ~2mon in milk
Sire: CH Tempo Aquila Danziger *B