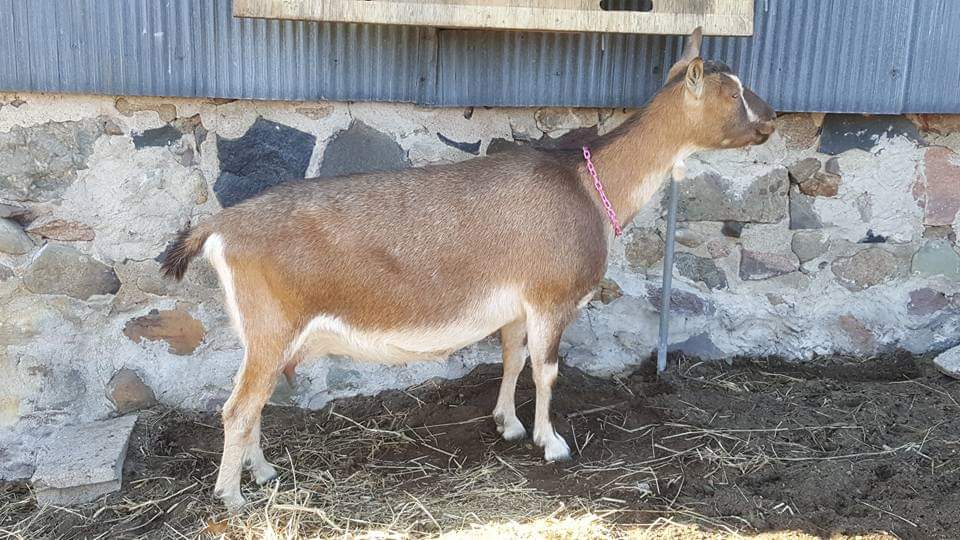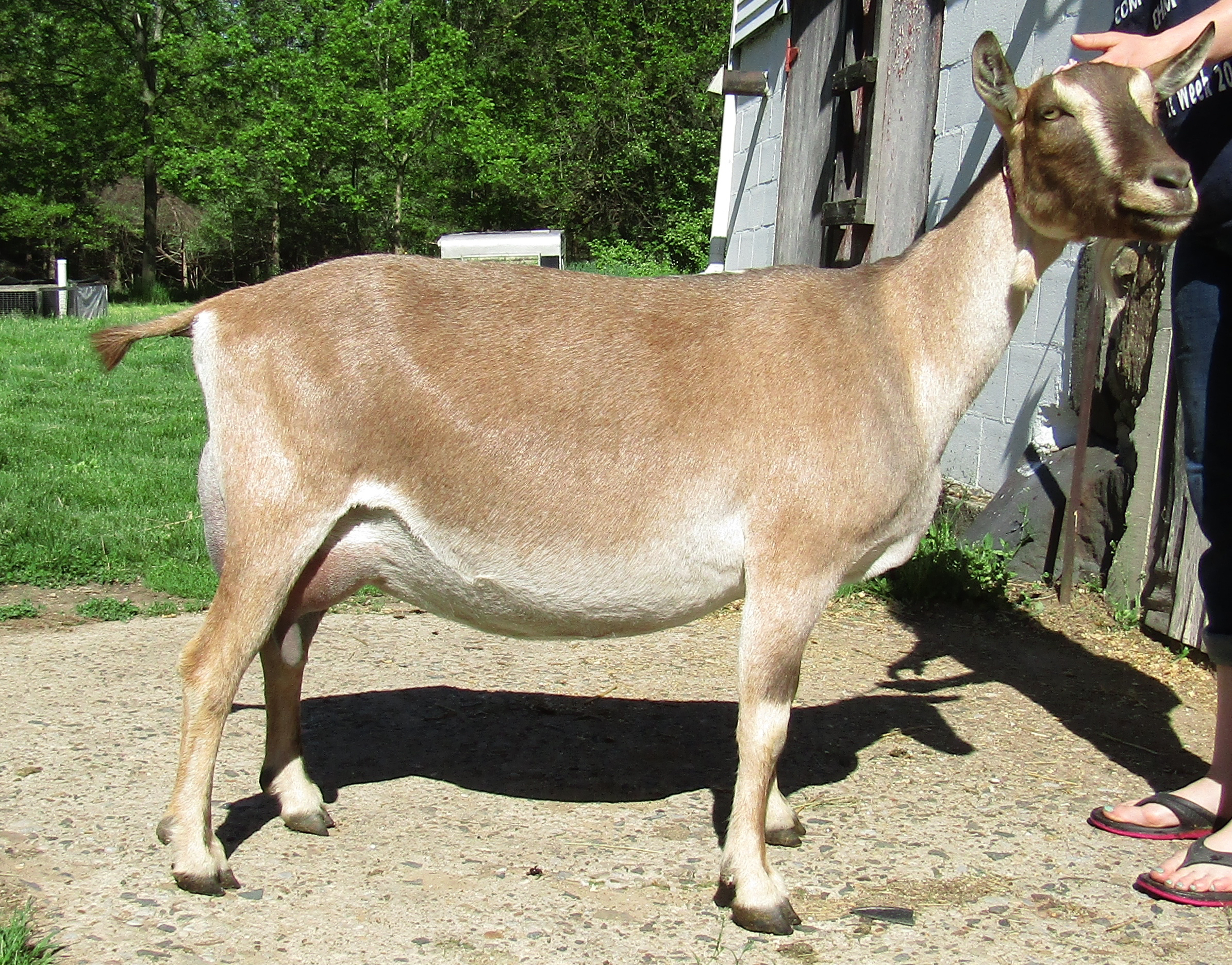 5/24/18, 4yo 4th fresh, ~2mon in milk.
Barn name: Ellie
Reg#: PA1669791
DOB: 3/3/14
Book: Purebred
Color: Chamoisee with brown/cream trim; Wattles
Casein: B/F
** DNA ON FILE **
Linear Appraisal History
2014 YS: ++V, overall +
2016 – 02-03 VVEV 87 – E in rump
2017 – 03-06 VVEE 90 – E's in head, rear legs, and back
2018 – 04-04 VEEV 89 – E in rump.
2019 – Dry, not appraised.
Appraiser said she desperately wanted to give her a higher score 2018 because she loved her overall, but did not have the 'bloom' to the udder this time of year (hot july appraisal). I still think it was because I accidentally overmilked her when relieving them in the AM, but we still know she is a phenomenal doe and look forward to her permanent score.  She was the appraiser's favorite, and she'll always be my favorite.
DHIR
Yr     Age    DIM    #M      %F   #F     %P   #P    Peak#
'15     1-00    203     977             34               31      6.3     (see notes on this lactation below)
'16    2-00    277     2360    4     95     3.2    75      11.3
'17    3-00    254    2549     4    102    2.9    74      12.0
'18   4-00    243    2480     4    100     3      74      13.7
Look at that fat percentage!
I am very pleased with the potential of this young girl. Her first lactation had me worried, as she freshened with pretty much ZERO udder with no bagging up prior to kidding. I began to question my careful breeding plans and her genetics, which should cause her to produce. She slowly came into milk. I would have loved to see a stronger lactation on a FF as she hit only 6.3 lbs/day before we further impacted her lactation by going to 1x per day milking for the 2 weeks before her 3rd test – causing her to decrease by a pound. We bounced around to once a day and twice a day milking a couple times during that lactation as a FF, so the end numbers are just not great. Her subsequent lactations have had much better numbers. I'm hoping she continues to improve with age and I think if we ever got triplets out of her, we would see a very nice lactation.
Her sire, Reprise, is still living on the ELITE sire list, at the 97th percentile in winter 2017.
FRESHENINGS:
3/21/15  – 1D  – Sold – Caprice Acres Adelise
3/8/16 – 1B 1D  – Sired AI by Tempo Aquila Danziger – LOVED THEM. Caprice Acres Tertia is the doeling, buckling was wethered after he turned chocolate sundgau (togg marked) which is a show fault. We opted to wether instead of sell.
3/17/17 – 1B 1D – Retained doeling – Caprice Acres Irish Red; Buckling survived about a day and a half, progressively lost appetite and had a distended appetite. Discovered a complete atresia between ileum and jejunum on necropsy. Elise freshened BEAUTIFULLY and PRODUCTIVE. 
3/17/18 – 2 D – Elise had a very slow labor despite normal presentation kids. She had a pyometra/metritis at time of kidding, unfortunately, likely causing abnormal labor. Systemically fairly normal, she produced near to no colostrum and her milk production started out low. Thankfully, she has come into milk beautifully. The kids were totally normal, as well. Both were initially sold but bought back in 2019 as dry yearlings, very small for their size. One doe kid tested CAE positive while in isolation and was sent to auction (Caprice Acres Lucy), the other remained negative through isolation and has 2 neg tests for all diseases and was gifted to the QMF herd – Caprice Acres Isabella (Izzy).
2019 OPEN – During 2018/2018 breeding season, she was continually in heat and did not respond to GnRH, CIDR treatments in the least. Unsure how this relates to her odd kidding and onset of lactation in 2018… But, she took a year off. 😉
Breeding Plans
Confirmed bred to Pleasant-Grove RR Mathias
While she did not take during our Lap AI session, we are ecstatic that she settled on her first natural service! Hoping for good things from this doe from her 6th year (5th lact).
Due 2/20/20
---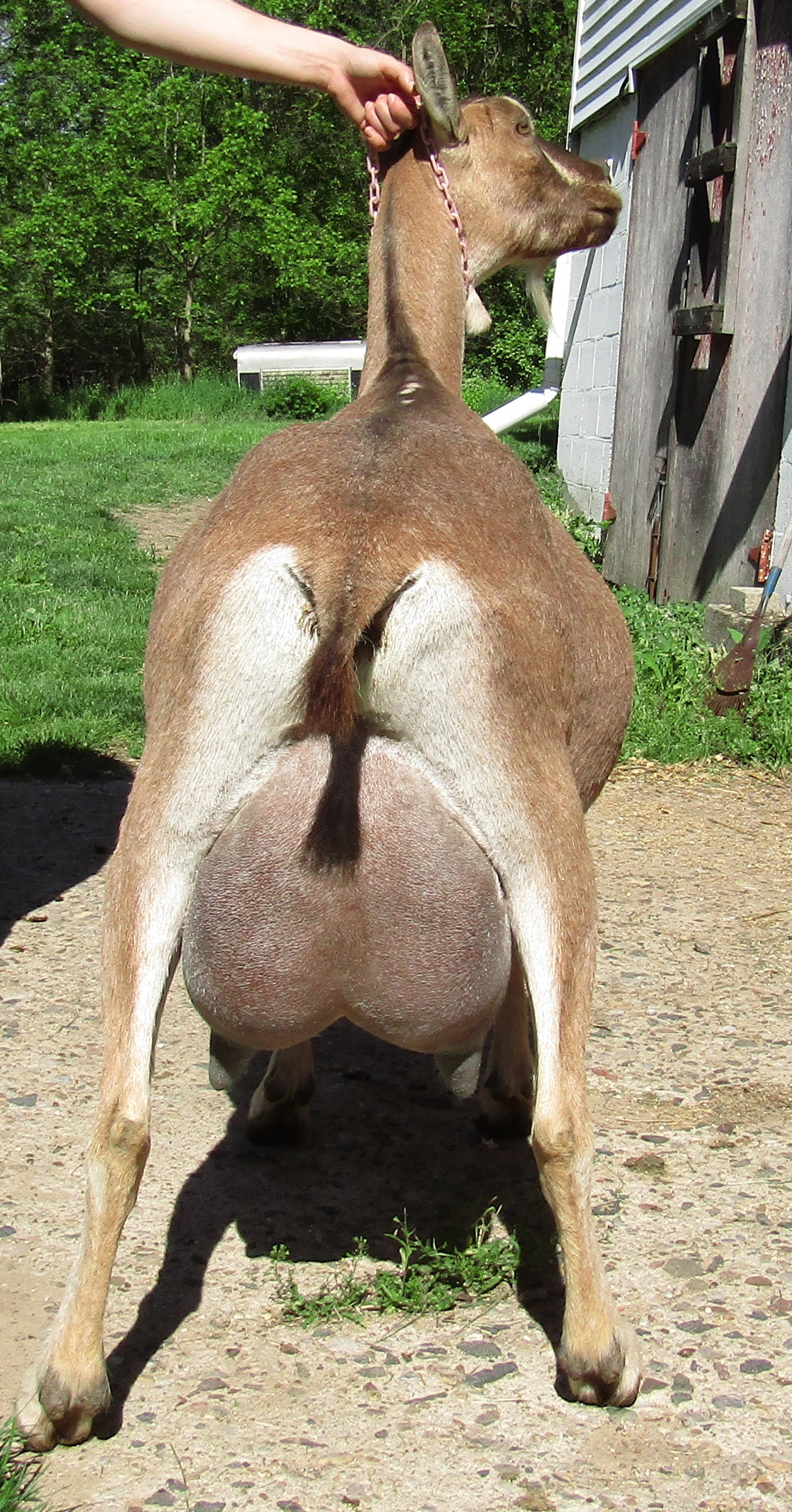 5/24/18, ~2mon in milk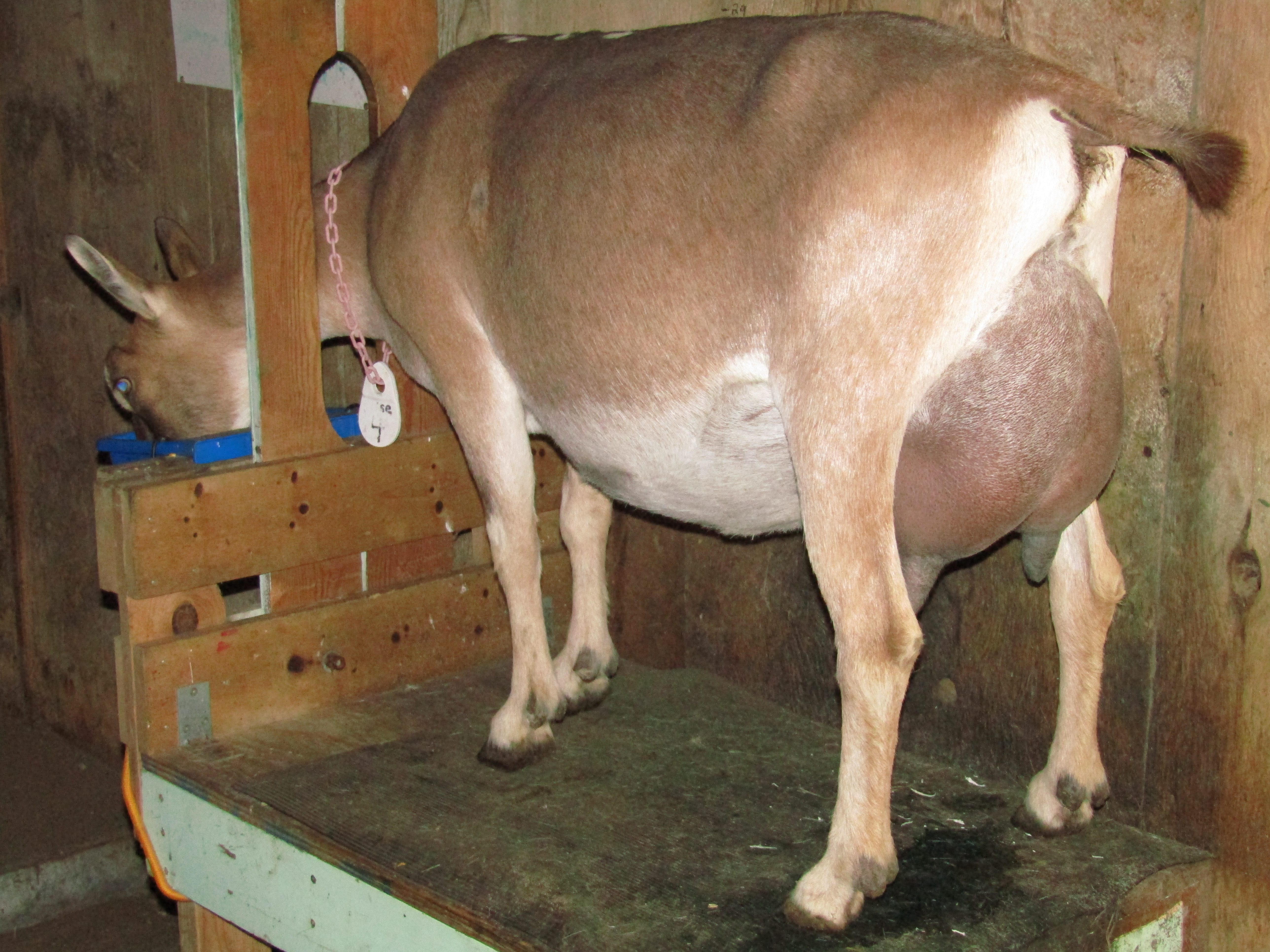 June 2018
6-6-16, 2 yo, 2nd freshening. 3 mon fresh. Candid milkstand picture

7-22-17, 4 months into her 3 yo 3rd lactation. Only 6hrs of milk or so in that udder in this picture.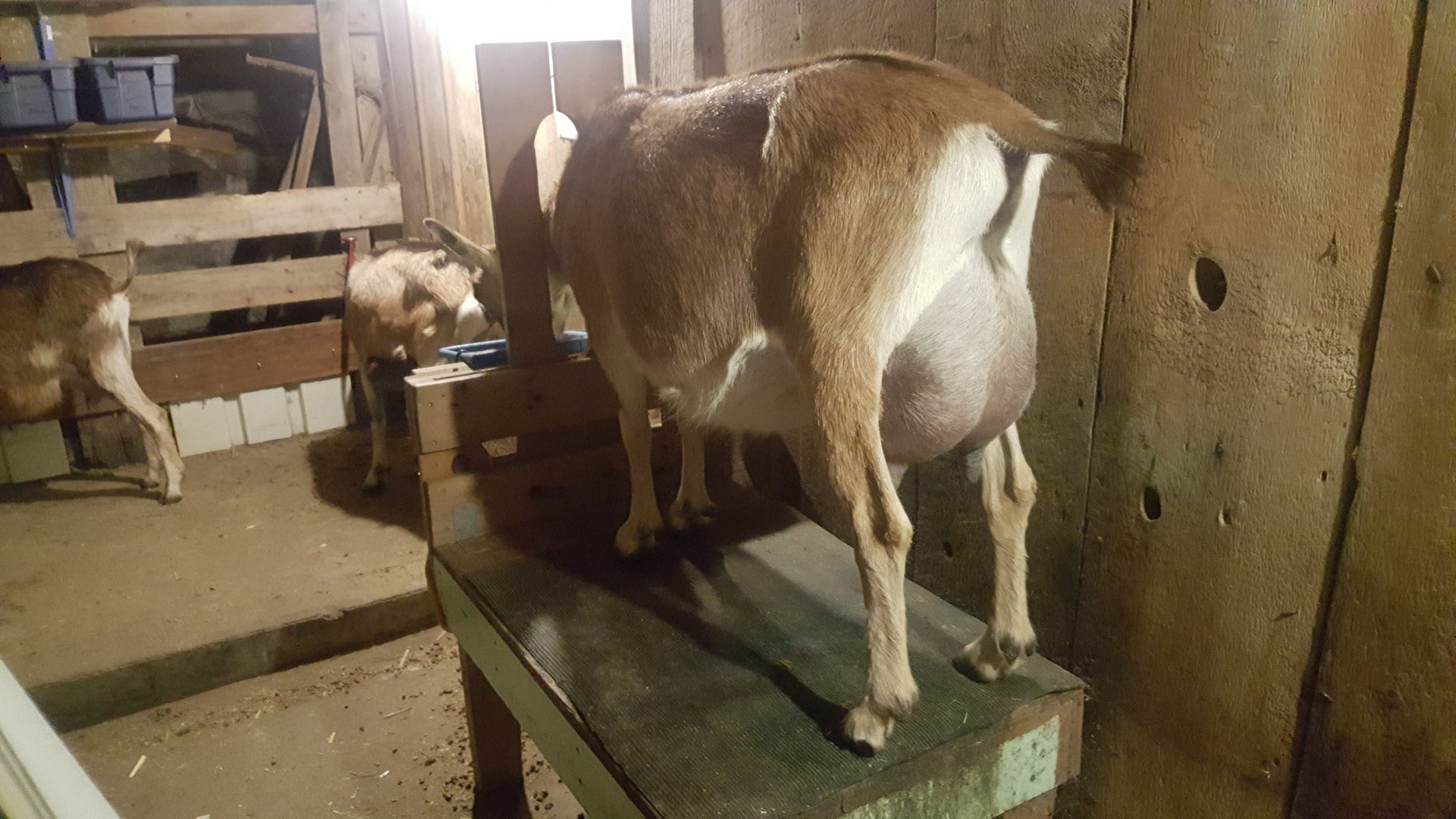 2017 – 2nd test date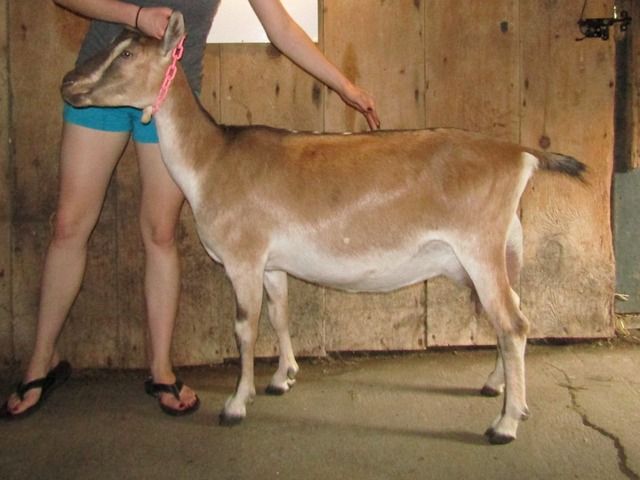 8/13/16, 2yo 2nd fresh, 5 months fresh.
Only ~5 hours of fill in that udder. See above for pictures at 12 hrs of milk. 😉