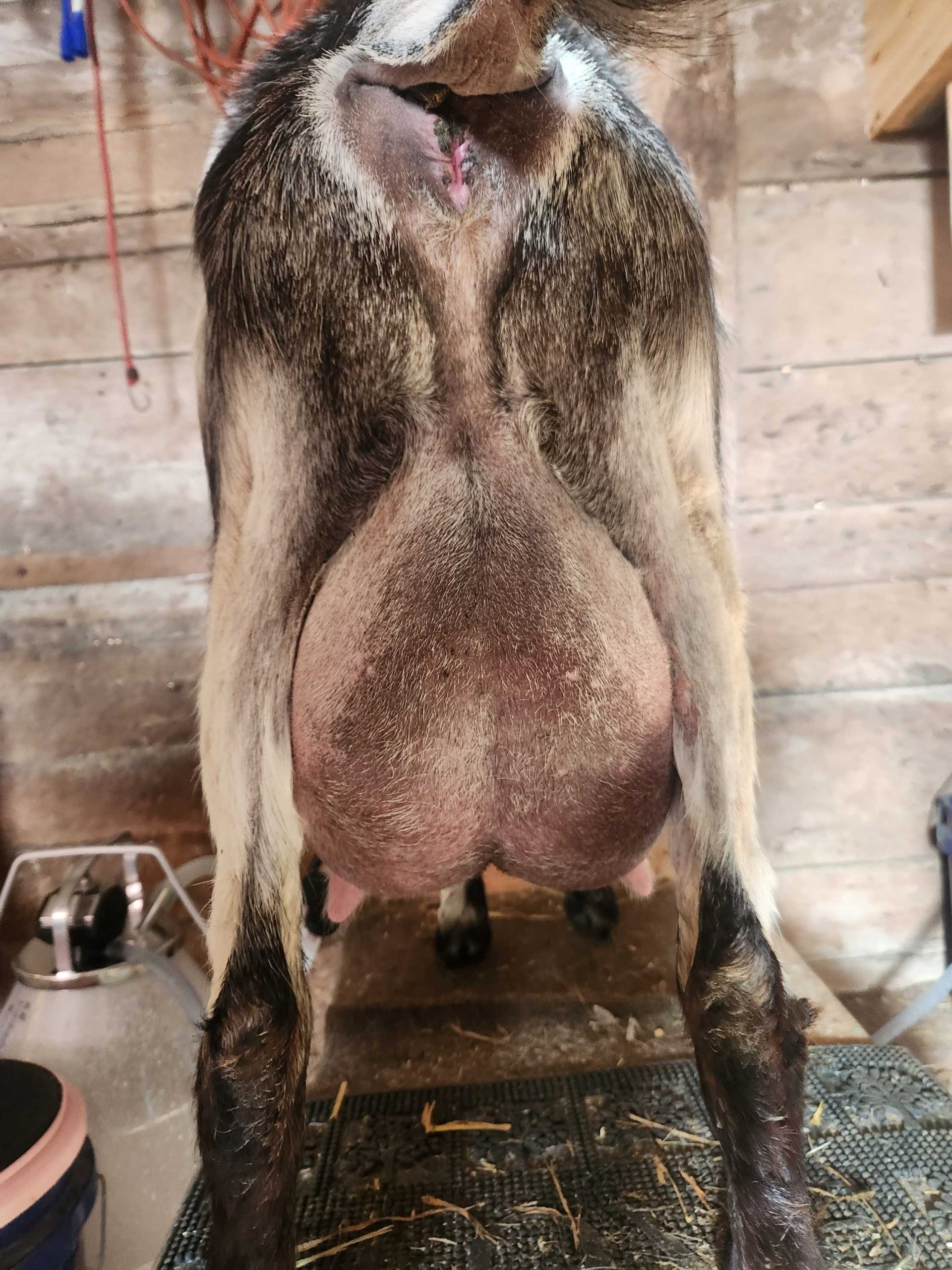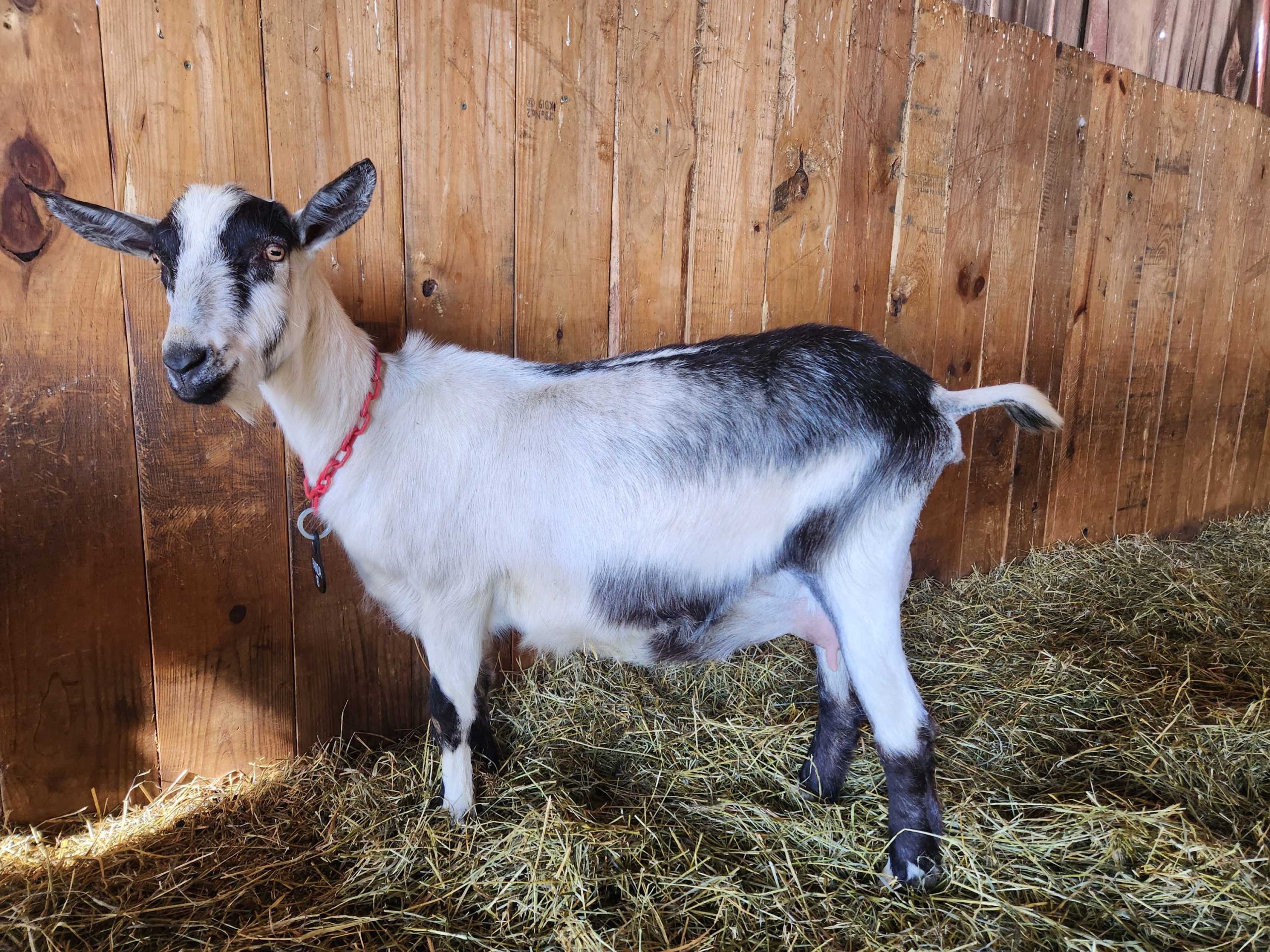 Barn name: Panda
Reg#: PA2225771
DOB: 3/12/2022
Book: French Alpine
Color: Broken Cou Blanc
POLLED
Casein: A/F
** DNA on file, dam verified ** 
Linear Appraisal History
2023 hopeful!
DHIR
Will be on official test once fresh!
Freshenings:
FF hopeful 2023
Breeding plans:
Bred: 10/15/22 to Caprice Acres SSO Vladimir
Due: 3/15/23
A doe that I suppose would be on most people's cull list is probably my favorite most anticipated doe for 2023 as a FF. Would be a hard choice between her and Europa as to who I'm more anticipating. For Panda, I'd say my other Jr does will look more impressive to other raisers.  This doe will not be a show doe, but then I never cared about shows anyways.
(Update post-sale – unfortunately that above statement was typed before she freshened – at which time I finally noticed she had an extra orifice on a teat! A crying shame becasue though she wasn't pretty, she milked and milked and milked peaking at 11-12lbs as a first freshener and with very high butterfat to boot. Despite how ugly she was, I'd have happily kept her to breed up if she didn't have a teat defect. I just don't keep those. I sent her without papers to a backyard milking home along with another sneaky double orifice jr doe 2023, Zosime. I really check them 1000 times but the double orifices are just too hard for me to spot on newborns. )
I usually try to stay pertinent to the majority of the "american show goat association" world (aka, what ADGA is for the most part) by utilizing AI genetics that are 'broad spectrum' – conformation, fancy show names – without hopefully sacrificing milk production. In this case, I went milk production (and Polled!) and I can work with the rest!  What I fully expect her to do, however, is fill buckets with milk.
Of all the Jr's, she is physically massive despite being born in March, whereas the rest of the Jrs were all born in January – she outweighs and is taller than them all.  Her pedigree is packed with extreme production on her sire's dams side, and her mother, Brazen, has an ELITE sire (GCH Roeburn's Legacy +*B) as well. As Panda's pre-fresh udder is coming in, it is massive compared to the other Jrs, but has a pretty low rear attachment but surprisingly snug fore – we'll see how it looks after freshening of course.  Panda's sire is CH La Sierra Wahoo, a POLLED sire with a pedigree with multiple >5000lb lactation animals from the 70s and 80s. I suspect his casein is A/A, because every kid I've had tested by him (aka, all that I've had born I believe – several at this point with Panda being the only keeper doe) have gotten an A allele from him.  I had no idea what to expect conformationally when using this buck, however – and I was unfortunately working with Brazen as the base whose udder is a step down from her dam's, unfortunately. She was serviced with wahoo as a Jr doe. I had expected Brazen to have IMPROVED udder from Red, since I chose Legacy for that reason – such is goat genetics – unreliable!  At least Brazen had the production of a FF and we'll see how her udder holds up this year as a 2nd fresh. I'll take functional over pretty any day. What I appreciate in Panda is her strength, that she carries high casein  (A/F), she is a POLLED French Alpine, and I suspect she's gonna outmilk everything else that I own. Something else you cannot measure, however, is the VIGOR that comes from these older genetics – Wahoo kids come out trying to eat everything, will chase you down for food when still wet, grow like CRAZY, always healthy. Call me crazy, but I love that she is a total outcross (0% inbreeding) and a french alpine. Preserving genetic diversity is also important for hardiness.
Conformational problems I'll have to account for moving forward are going to be udder structure based on her pre-fresh udder, and her steep rump, primarily – thankfully I believe have plenty of bucks to use for just those reasons. She is carrying 2023 kids sired by Vladimir. Vladimir is heavily bred on Pleasant-Grove genetics (AKA hopefully an "udder" buck) with both Super Standout and our ELITE sire, Mathias, close up in his pedigree. His dam was Psyche, a doe I probably shouldn't have sold – Elise x Mathias.
Other relatives to Panda include Caprice Acres Wahoo Jubilant –  an Elise x Wahoo son that I sold to a good friend Lauren Cain with semen return request. He is an A/B casein buck, polled, and being an Elise son should have much improved genetics for rump AND udder conformation. He's quite a handsome feller.
Another relative that I own is Caprice Acres Wahoo Bodacious – full littermate sibling to Panda. He's an 'ugly' buck, also A/B, Polled. Steep rumped like Panda. I sure expect production out of him. Used him on our Kiko/Boers this year for lack of better option and actually think that might be a good cross for him, plus hopefully some polled kids will be born with high casein alleles for brood stock. Also used him on some Jrs that have strong udder conformation behind them that were too related to be bred to anything else. 😉